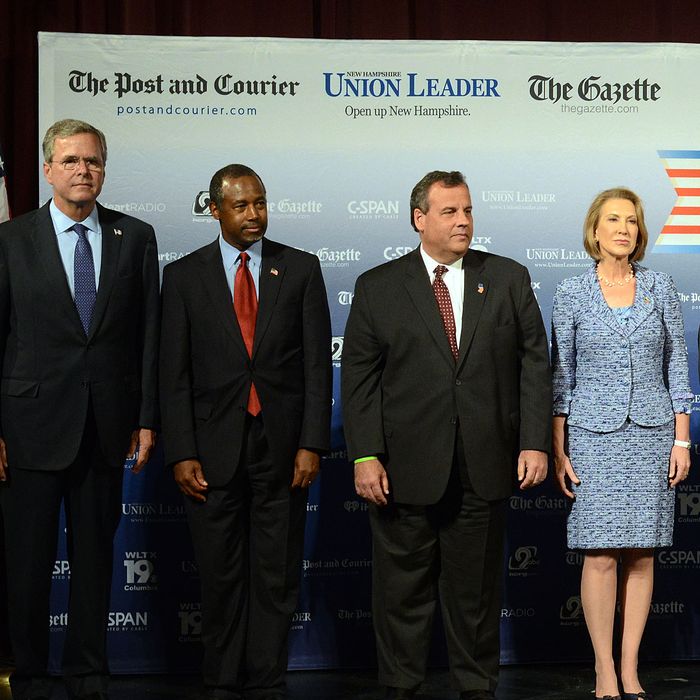 The 2016 GOP candidates, minus Donald Trump, at the Voters First Presidential Forum for Republicans on August 3, 2015 in Manchester, New Hampshire.
Photo: Darren McCollester/Getty Images
After months of buildup, we're finally here: On Thursday night Fox News and Facebook will host the first Republican debate of the 2016 campaign, which may determine who becomes the next president of the United States. Okay, actually, we'll see eight more GOP debates over the coming months, but how many of them will include Donald Trump? For those who haven't spent the past few weeks savoring Trump 2016 and speculating about who'll end up at the "kids' table" debate, we're here to answer all of your questions about the political event of the summer.
When and where is this debate being held?
Thursday from 9 p.m. to 11 p.m. EDT at the Quicken Loans Arena in Ohio, home of the NBA's Cleveland Cavaliers.
Never mind. I'll be watching Jon Stewart's final Daily Show.
That doesn't start until 11 p.m. You can watch both.
But I don't even like The Apprentice. Why should I tune in?
Your strong sense of civic duty?
Try again.
The 2012 GOP debates were rife with amusing gaffes, from Rick Perry's "oops" to Romney's $10,000 bet, his "self-deportation" plan, and the audience encouraging Ron Paul to let a hypothetical uninsured man die.
Okay, who else is going to be there?
Former Florida governor Jeb Bush, Wisconsin governor Scott Walker, Florida senator Marco Rubio, former Arkansas governor Mike Huckabee, Texas senator Ted Cruz, Kentucky senator Rand Paul, neurosurgeon Ben Carson, New Jersey governor Chris Christie, and Ohio governor John Kasich.
I can't picture it. Do you have a photo that makes it look like they're all assembled on the bridge of a spaceship?
Here you go:
Aren't there, like, 14 other guys running for president?
There are seven candidates who didn't make the cut (and one is a lady): Texas governor Rick Perry, former Pennsylvania senator Rick Santorum, Louisiana governor Bobby Jindal, South Carolina senator Lindsey Graham, former Hewlett-Packard CEO Carly Fiorina, former New York governor George Pataki, and former Virginia governor Jim Gilmore. They'll get to duke it out at the so-called "kids' table" debate, which kicks off at 5 p.m. EDT and will last one hour.
Who came up with that?
Fox News, or rather CEO Roger Ailes. Many complained that the network's criteria for participation was completely arbitrary (or in the words of J.V. contender Lindsey Graham, he was excluded for "no good reason" and "it sucks"). The network said that to be invited to the 9 p.m. debate, candidates "must place in the top 10 of an average of the five most recent national polls, as recognized by Fox News" as of 5 p.m. Tuesday. As New York's Gabriel Sherman reported last week, even those who work at Fox didn't know exactly what that meant:
"There's total confusion about all of it. The Second Floor is making it up as they go along," one Fox personality told me, referring to Ailes's executive suite. According to sources, Fox executives are still undecided about which polls to use and who will be allowed on the stage.
Along the way Fox News changed the rules, saying candidates can participate even if they're polling below one percent after it became apparent that Lindsey Graham, Carly Fiorina, and George Pataki might not even make the 5 p.m. debate. As an irate Rachel Maddow noted this week, Fox News also ignored a NBC/WSJ poll, which was the fifth most recent, in favor of the sixth most recent poll by Quinnipiac. Maddow suggested this was done to make it look like there was a good reason for banishing Rick Perry to the 5 p.m. debate when he and John Kasich are essentially tied. Using the Quinnipiac poll puts a 1.4-point gap between Perry and Kasich, but using the NBC/WSJ poll, there's only 0.8 between them. 
Fox News offered an explanation:
We did not include the highly-respected NBC/WSJ poll, which is the fifth most recent poll, only because it did not meet our criterion that the poll read the names of each Republican candidate in the vote question. We would note, however, even though their ballot question included Perry but did not name Kasich, the unaided "Kasich" response tied the aided "Perry" response. In short, their results are consistent with the results of the other polls in our review, and consistent with the resulting placement in the Fox News debate.
And from the start they said they'd only use polls "recognized by Fox News."
As NPR explains, the rankings are fairly meaningless anyway, since at this point polls mainly tell us which candidates have the most name recognition, not the most support. But the Republican National Committee let Fox News call the shots. RNC chief strategist Sean Spicer said, "When you have a debate, the fact is that you can only physically fit X number of people on stage. It's a fact, not a debatable issue." And after holding 27 GOP debates and forums in 2012, this year the party's main concern is keeping the Republican primary from becoming a chaotic free-for-all.
Are there any other ground rules?
The 9 p.m. debate will be moderated by Fox News anchors Bret Baier, Megyn Kelly, and Chris Wallace. (Fox's Bill Hemmer and Martha MacCallum will handle the 5 p.m. debate.) Candidates will have one minute to respond to questions and 30 seconds for rebuttal if their name is mentioned. There will be no opening statements, but if time permits candidates will get 30 seconds for closing statements.
The moderators say they've been tweaking their questions for weeks, and Baier told Politico they want to make sure the candidates get equal time, though that's "obviously logistically challenging." And what if Trump decides the rules don't apply to him? "We have a plan," Kelly said, "but we're not going to share it with you."
How are the candidates preparing?
If you're Donald Trump, by essentially doing nothing. A senior Trump adviser told ABC News on Wednesday that, while they've prepared memos for him on the issues and potential questions, he's held no debate prep sessions. Trump could probably benefit from a little practice, since this is his first political debate, and he has little experience sharing the stage.
Trump has suggested that he'll be less zany and belligerent than expected. "I'll have to feel it out, see where everyone else is coming from," he said. "I'd prefer no conflict, no infighting, but if they hit me, I'll hit them harder. It's all going to depend on the moment." One popular theory is that he shouldn't give TV viewers what they're tuning in for. Per the New York Times:
Mr. Trump could come away a winner if he makes cogent points without sounding too hostile, presenting himself as more of a serious-minded, anti-establishment voice in a primary crowded with career Republican politicians. But there are risks for him if he turns the debate stage in Cleveland into another episode of the reality show his campaign has sometimes resembled.
On the other hand, every gaffe Trump's made seems to make him stronger.
Kasich political strategist John Weaver summed up what the process has been like for the rest of the field:
Bush will probably try to look like the adult in the room, though that could be tough if he has another Romney-esque moment. The New York Times reports Marco Rubio, Ben Carson, and Ted Cruz are practicing how to steer the debate to policy issues like national security, entitlement reform, and health care. "No one knows how much the moderators are going to ask us about Donald Trump, let alone what Trump is going to say, so the preparations are warped by the Trump factor," Carson said. "What most of us will be looking for is any opportunity to turn the conversation into something meaningful, rather than about one man."
Scott Walker has been holding elaborate mock debates with advisers playing Trump and other candidates. But Chris Christie said that isn't working for him. "Usually you kind of do mock debates — at least from our perspective. You can't do a mock debate here with ten folks trying to figure out who's going to say what," he said.
Rand Paul hopes he can regain some momentum by positioning himself as the anti-war candidate. Yet his preview video looks like an opening-credits sequence that explains how our heroes wound up in a postapocalyptic hellscape:
Then there's Mike Huckabee, who's a bit confused about how debates work:
Just kidding. Huckabee may not understand how our government functions, but he's just responding to a call for questions from viewers. Facebook is co-sponsoring the debate, and Fox News will pose some questions submitted via online comment, photo, or video.
This is all good to know, but I'm mainly tuning in for the drinking games.
The Sun-Sentinel has debate bingo, and Rolling Stone has a traditional drinking game. We do not recommend BuzzFeed's version, because we do not agree that hearing the term "flat tax" warrants more drinking than spotting "the ghost of Ronald Reagan" onstage.
Noted. Where can I watch the debate?
On Fox News, or FoxNews.com if you have a log-in from your cable company. As Gizmodo laments, despite Facebook's involvement, the debate will not be shown on the web. So if you don't have cable, just watch the debate wherever you illegally stream Game of Thrones.