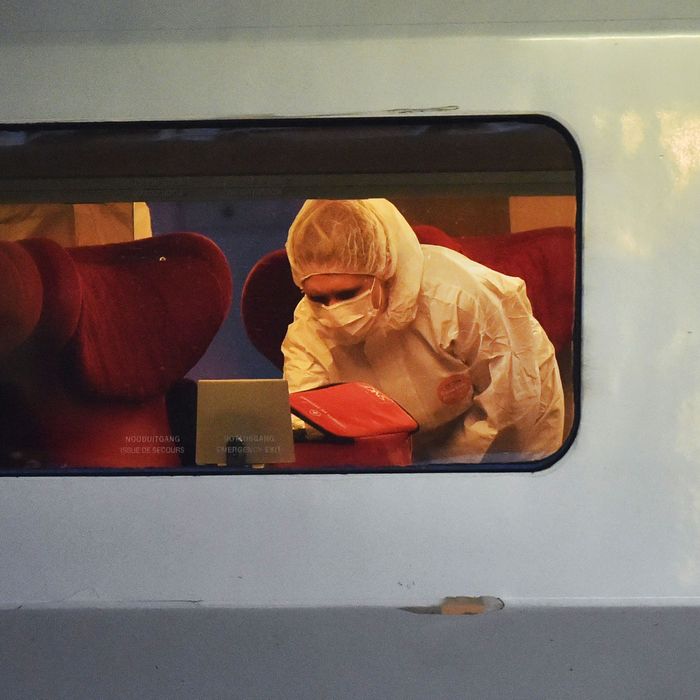 Police inspect train following attack.
Photo: Philippe Huguen/AFP/Getty Images
Three people were hurt when a gunman opened fire on a high-speed rail traveling from Amsterdam to Paris on Friday. At least one of the victims seriously wounded was an American.
The gunman began shooting in the rear of the Thalys train as it raced through Belgium, French president François Hollande said. Two Americans whom French media reported to be U.S. Marines were apparently able to overpower the gunman while he was loading ammunition in train's bathroom. They reportedly subdued him until authorities could take him into custody when the train was diverted to a stop in Arras, a city about 115 miles north of Paris. At least one of the Americans who wrangled the attacker was badly hurt.
The alleged shooter is a 26-year-old Moroccan man; he was reportedly armed with a Kalashnikov, an automatic pistol and cartridges, and a knife.
The suspect has so far refused to talk to police, but according to the BBC, the man was known to French authorities. French officials cannot confirm that it was a terrorist attack, but anti-terrorist agents have taken over the investigation. 
This is a developing story.