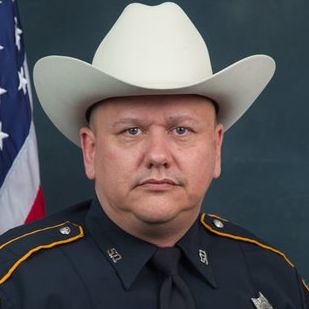 Friday night in Houston, Texas, an on-duty policeman was fatally shot, "execution-style," while pumping gas into his police cruiser, according to the Houston Chronicle. Forty-seven-year-old Darren Goforth, a deputy sheriff in Harris County, Texas, had recently finished investigating a routine traffic accident before stopping for gas about 30 minutes later. While Goforth was pumping gas at the service station, someone walked up silently behind him and opened fire, continuing to shoot even after the deputy hit the ground. Harris County Sheriff Ron Hickman described the act as an "assassination," adding, "In my 45 years in law enforcement, I can't recall another incident so cold-blooded and cowardly."
Police originally said they believed the shooter was a 20- to 25-year-old "dark-complexioned man about 5 feet 10 to 6 feet tall" who was driving a dark red truck. They also released a photo of the suspect taken by a surveillance camera. Following an overnight manhunt, police questioned and then charged 30-year-old Shannon J. Miles for the murder. A tip had led them to the home of Miles's mother and brother, where they found both Miles and a red pickup truck parked in the driveway. The suspect, who has been charged with capital murder, has previously been arrested at least six times, two of which were for assaulting a police officer. Miles is seen below (note that apparently police originally released the wrong mugshot, of another black man — this photograph is reportedly correct):
The New York Times reports that police also recovered a handgun that ballistics tests showed was a match for the gun used to kill Goforth. So far, there does not seem to be any previous connection between the suspect and the deputy. 
Harris County Sheriff Hickman, however, is already suggesting that widespread activism against police misconduct may have played a role, noting he was especially concerned about such a calculated killing in light of the recent tensions between police and civilians, insisting, "We've heard black lives matter, all lives matter. Well, cops' lives matter, too. So why don't we just drop the qualifier and just say 'Lives Matter,' and take that to the bank."
Black Lives Matter co-leader DeRay Mckesson has since responded to that statement:
Deputy Goforth was a 10-year veteran of the Harris County Sheriff's Office and is survived by his wife and two school-aged children.
This post has been updated throughout to reflect new developments in the story.