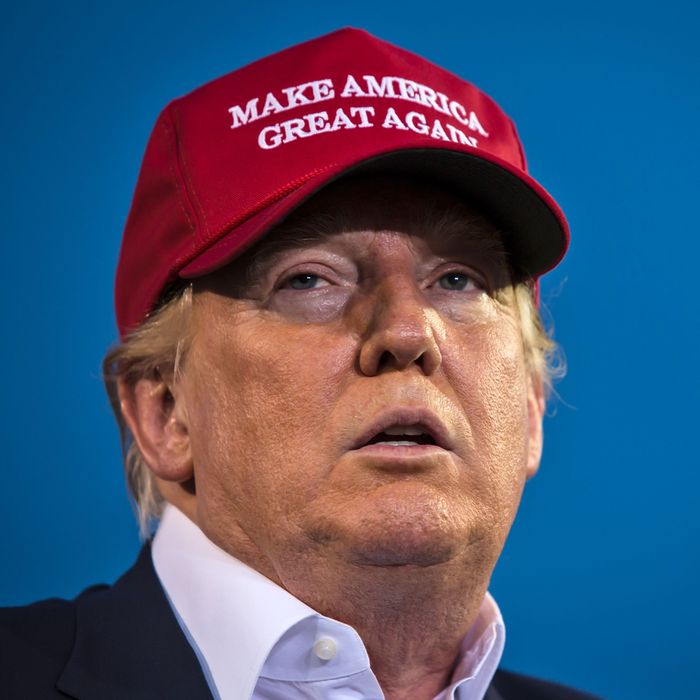 Trump.
Photo: Julie Dermansky/Corbis
When it comes to dealing with rogue states, Fox News has a firm editorial philosophy: You don't negotiate. Roger Ailes is learning that the same logic applies to a rogue candidate. Last night, Donald Trump took to Twitter and blew up the uneasy truce Ailes had brokered with him two weeks ago following Trump's attacks on Fox star Megyn Kelly after the first GOP debate. "I liked The Kelly File much better without ‪@megynkelly. Perhaps she could take another eleven day unscheduled vacation!" Trump tweeted as Kelly began her broadcast. Moments later, Trump retweeted tasteless comments from his followers. "The bimbo is back in town," one read. "She has come back looking like Nancy Grace," said another.
This morning, Ailes returned fire with much more force than he mustered during the initial imbroglio, when he muted his defense of Kelly in order to make peace with Trump. "Donald Trump's surprise and unprovoked attack on Megyn Kelly during her show last night is as unacceptable as it is disturbing," the Fox chief said in a statement, which called on Trump to apologize to Kelly. "We have never been deterred by politicians or anyone else attacking us for doing our job, much less allowed ourselves to be bullied by anyone and we're certainly not going to start now." Fox's foot soldiers also fired shots: Bret Baier, Bill Hemmer, and Dana Perino were among a number of the network's hosts posting pro-Kelly tweets in what looked like a coordinated defense. 
Although today's back-and-forth attracted widespread media attention, the truth is that, for Trump at least, low-level hostilities with Fox resumed a scant few days after he went back on Fox & Friends and told co-host Steve Doocy "we've always been friends." On Friday, August 14, after Kelly announced on her show that she was taking a long-planned two-week vacation, Trump gave an interview to Newsmax TV speculating that Kelly had been yanked off the air. That night, a Fox spokesperson hit Trump with a statement saying his comments "rank up there with UFO's, the moon landing and Elvis being alive."
Days later, Trump hit Fox — but not Kelly — again when Politico reported that Fox pollster Frank Luntz criticized Trump at the Koch brothers' private conference for GOP megadonors in California. Trump called for Ailes to fire Luntz and alleged that Luntz had rigged his post-debate Fox focus group in retaliation for Trump's refusal to hire Luntz to do private market research.
"In the debate I was asked the worst questions!" Trump told me during an interview last week. "I had four candidates say to me, 'Man, you did great tonight' and they wouldn't want those questions. I had four guys say I won the debate … And I then turned on the television and I see this guy saying I didn't like Trump tonight and another guy saying I didn't like Trump tonight. To me? That's a phony deal." ("I'm not responding to his crap anymore," Luntz told me. "Fox is ignoring him and so am I.")

But now that Trump has returned to full-frontal attacks on Kelly, Ailes can't ignore him. Although some have speculated that the feud is merely a gambit to build up an eventual Kelly-Trump interview that would surely deliver ratings gold — and given Ailes's canny programming instincts, the idea has surely been entertained — more than a half-dozen sources on both sides of the divide told me that the war is real, and not in a reality-television sense of the word. "What's wrong with this guy?" Ailes grumbled to a Trump ally recently, according to a source. "I don't know what to do."
Trump's feelings are just as personal. On August 12, two days after agreeing to the truce, Trump steamed in private while reading a report by CNN media correspondent Brian Stelter that Trump felt took a pro-Fox slant. "We resolve this now or go to war," the piece quoted Ailes saying. Trump, according to a friend who spoke with him, felt Ailes was spinning in order to damage him. "I know exactly what they were doing," Trump told the friend, who says it took a lot for Trump to keep his mouth shut that day. "When Ailes was putting out those stories saying he had won, I just kept quiet. Aren't you proud of me?" Trump told the friend. (A Fox spokesperson didn't respond to a request for comment.)
It's now harder to see an end to the Trump-Fox war soon. As I reported this week, Trump's poll numbers remain strong and he's building a robust campaign operation, which is a threat to Ailes's political project: "Roger says Trump is unelectable. His goal here is to save the country," a source close to Ailes told me.
Tonight at 9 p.m., when Megyn Kelly goes on the air, Trump will be competing in the same time slot. "I will be in Iowa tonight with my speech being live on CNN and other networks," Trump said in his statement. Ailes will find out whether Trump presents a programming problem in addition to a political one.