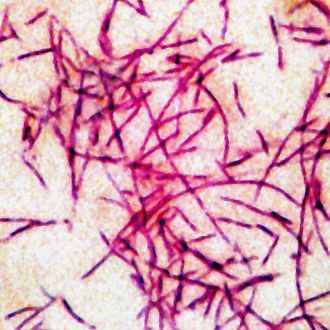 Authorities announced Tuesday that an inmate at Rikers Island had tested positive for Legionnaires' disease, a severe form of pneumonia. According to DNAinfo, the 63-year-old man, who is being treated at the jail ward of Bellevue Hospital Center, has been incarcerated at the jail since December 2014. He left twice to go to court in Brooklyn.
Six cooling towers and showerheads at Rikers are being disinfected, although city officials didn't say whether they thought the man had contracted the disease there. They did note that it was unlikely the case was connected to the outbreak that has infected at least 115 people in the South Bronx since early July — the city usually sees about 200 cases of Legionnaires' a year — and that the unidentified man had preexisting medical issues. 
Correction Officers Benevolent Association president Norman Seabrook immediately called on the city to test all Department of Correction facilities. 
Hundreds of miles away, in Zebulon, North Carolina, drug company GlaxoSmithKline shut down a manufacturing plant because a cooling tower tested positive for the Legionella bacteria. The manufacturing plant makes inhaled medications. "We are trying to gather information on what the situation is," a spokesperson told the Associated Press.
Earlier on Tuesday, Mayor Bill de Blasio told a crowded senior center in the South Bronx, "We are confident that the Legionnaires' outbreak is now ending." Twelve people have died from the disease, which spreads through inhaled water mist. There have been no new cases since August 3 — at least, until the inmate at Rikers was diagnosed. The disease has a ten-day incubation period.
De Blasio and Cuomo — who have had a hard time making nice lately, even when fighting a deadly disease — announced that new rules would be "drafted by the Governor's Office, Mayor's Office and City Council representatives." The proposed regulations include setting up a statewide registry for cooling towers and penalizing those who do not properly maintain the towers.
More than 12 cooling towers in the South Bronx tested positive for the bacteria and have since been cleaned. City officials have said that the outbreak may have originated at the Opera House Hotel, although test results haven't come back yet. Glenn Isaacs, vice-president of the company that owns the hotel, has criticized the city for not giving him enough information about the outbreak calling it "a frustrating experience, to say the least."
According to The Wall Street Journal, Isaacs hadn't told guests about the hotel's possible role in the outbreak because he doesn't "want to spread misinformation like the city does." When reporters asked de Blasio about Isaacs, he replied, "I don't know why there's such great concern for the owner of a hotel when we're talking about a disease outbreak that's affected so many people … I find it really interesting that the hotel owner's feelings were more important to you than what are we doing to stop a disease, but feel free."