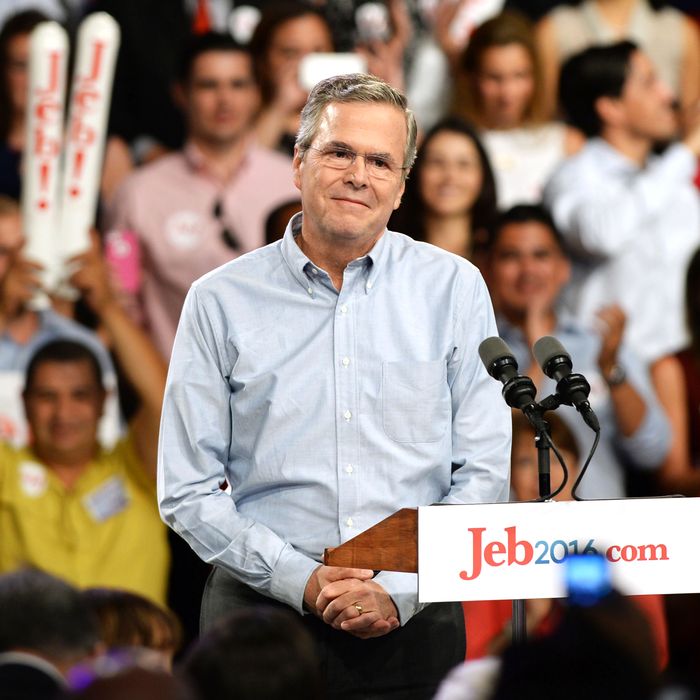 In the months before anyone had announced that they were running for president in 2016, many observers acted like the contest had already been scripted and everyone had obtained advance copies. Hillary Clinton was going to be the Democratic nominee, and Jeb Bush would win the Republican primary. 
As the Republican race began to populate with campaigns that were no longer imaginary — nearly 20 of them — modifiers quickly crept into descriptions of Bush's electoral odds. He was now the "fragile front-runner," the "weak front-runner," the "front-runner-in-name-only." The former Florida governor's weaknesses became more glaring, and his younger and shinier adversaries — Marco Rubio and Scott Walker, in particular — started to look more exciting.
And then, a plot twist. Donald Trump surged to the top of the national polls. According to HuffPost Pollster, the New York–based quote generator is averaging about 25 percent support in the polls. Bush follows with about 12 percent, and Scott Walker has about 11 percent. Everyone else in the race is far behind. In Iowa, a state Jeb Bush was never likely to win — tea-party-friendly conservatives Mike Huckabee and Rick Santorum won there in the past two election cycles — he is in third place. In New Hampshire, a state Bush probably needs to win if he wants to get the nomination, he averages second. 
Now that the race has become more complex, can Bush still be considered a front-runner? Let's sift through the evidence. 
Reason He's Not a Front-runner: Trump Is Ahead in the Polls

As David Weigel pointed out this morning, many reporters and data-crunchers assumed that Trump's poll coup would be brief. Instead, Trump's lead has only grown larger. He has also started to do better than his opponents on polling questions that might be more predictive than "who are you going to vote for?"
Andrew Smith, director of the Survey Center at the University of New Hampshire, says that looking at which candidate voters think will win is a far more useful gauge of how the election is shaping up right now — or which candidate voters absolutely refuse to vote for. J. Ann Selzer, pollster for the Des Moines Register and Bloomberg News, agreed, and built the "Selzer Score" as a way of judging candidates by more illuminating bits of data. Her score grades candidates by how many voters consider them to be their first or second choice — and how many voters could see themselves supporting them at one point. 
Trump's rising favorability ratings have sent him to the top of the Selzer Score listings — Trump now has a 63.5, while Bush has a 48.5. At the end of June, Bush had a 99.5; Trump had a 21. 
Reason He Is a Front-runner: Trump Is Ahead in the Polls

Despite the hedging adjectives and the drama, some argue that this Trump eruption might even be helping solidify the advantages that Bush already had. GOP consultant Alex Castellanos told the New York Times, "The longer it goes, the greater the panic is going to build. And that means you may not have the luxury to flirt with an undeveloped, budding candidate. Trump has set the Republican Party on fire, and if you're going to put that fire out you don't have time to waste. You're going to have to grab the biggest blanket you got and throw it, and right now that's Jeb."
He's right; by a handful of metrics, Bush still leads the competition, even if the sheer size of the field — and the dissonant hollering from its less presidential inhabitants — has made it impossible to lead by a lot.
Trump's lead in the polls may not be terribly disconcerting either, based on past precedent. Remember, neither Michele Bachmann nor Herman Cain is our president right now. 
It's important to keep in mind that at this stage in the race, polls are not great predictors of how much support candidates will ultimately have, because voters aren't tuned in to the contest yet. "We overestimate how much people in New Hampshire pay attention to the race," Smith says. "Everyone wants to think about summer vacation right now, not a presidential election." Because many voters haven't thought about whom to vote for next year — and won't think about such things for awhile — polls do little more than measure the publicity each candidate has successfully generated. Social numbers bear that out: Between July 23 and 29, 988,000 unique people talked about or interacted with a post on Facebook about Bush, while Trump compelled 6,838,000 people to talk about him during the same time frame, according to Andy Stone, policy communications manager at Facebook — double the number of people talking about Hillary Clinton. 
Reason He's Not a Front-runner: Jeb Bush

Back in early 2015, when Bush was first being labeled as an early front-runner, no one had seen what a Jeb Bush candidacy would look like. The few short glimpses we've seen since have not done much to bolster his image. This morning — hours after Bush said, "I'm not sure we need half a billion dollars for women's health issues" — the New York Times reported that Bush's "team is grappling with an uncomfortable but inevitable question: Is Jeb his own worst enemy in the Republican contest?" 
Bush has also made less than strategic remarks about the Iraq War and the productivity of American workers. Given that the primary will be filled with voters far more conservative than the general populace, Bush also faces potential problems in selling his ideas on education and immigration. 
He's still a far more polished and experienced candidate than some of his opponents, but in a race with 17 candidates, there isn't much room for error.
Reason He's a Front-runner: Gamblers Like His Chances
Online gambling and odds markets have an uneven record in predicting election outcomes — but they did nail the outcome of the last Republican primary. In October 2011, when Romney watched his opponents surpass him in the polls and take turns leading the race, the now-nonexistent Intrade predictive market gave him a 66 percent chance of winning the nomination. Currently, PredictWise, which takes into account bookie data, polls, and market data, says that Bush is 45 percent likely to win the nomination. Walker, in second place, stands at 18 percent. Donald Trump is tied for third.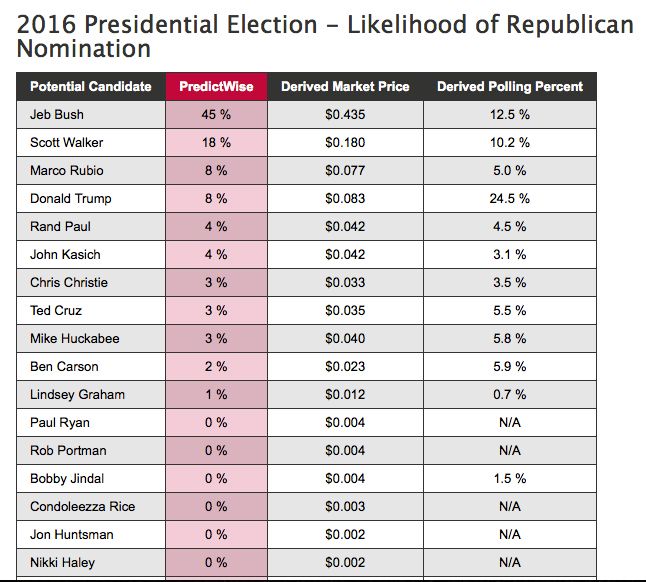 Over at Irish gambling website Paddy Power, Jeb Bush is the safest bet, and has only gotten safer over the past few months, according to spokesperson Nicholas O'Malley. Paddy Power gives him about a 44 percent chance of winning now, up from 33 percent in February. Marco Rubio, has about a 14 percent chance of winning according to the betting site, and Walker has a 20 percent chance.
Reason He's Not a Front-runner: Aspiring Establishment Thing 1 and Thing 2
In most recent Republican presidential primaries, there was a clear establishment favorite. John McCain lost in 2000, so he got to try again in 2008. Mitt Romney lost in 2008, so he was given a chance at redemption in 2012. George H.W. Bush was vice-president. There's a hierarchical rubric to follow, and it's usually made it easy to predict how a primary race will end. In 2016, there is no obvious establishment pick. Everyone wondered if Romney would run — which might have made things easier — but he didn't. Bush has presidential pedigree and that attractive mix of moderate veneer and conservative résumé verbs — slashed budgets, eradicated government jobs — GOP leaders adore. However, so do Florida senator Marco Rubio and Wisconsin governor Scott Walker. Walker managed to win a tough recall prompted by frustrations from his state's unions — with help from the Koch brothers — and is currently leading the polls in Iowa. Both are young — and not related to former presidents. 
Both are also far less familiar than a Bush — but voters may decide they like them after a few debates. 
Reason He's a Front-runner: He's Still the Most Favored Establishment Pick
Historically, winning early support among other politicians in one's party tends to correlate pretty strongly with success in primary season. Lynn Vavreck wrote in the New York Times last week that "since 1980, the single best predictor of a party's nominee is the number of endorsements from party elites … in the months before primaries begin." Bush has more endorsements from current and former lawmakers than any other GOP candidate at this point, with 17. But Vavrek notes that "only about 14 percent — 45 of 331 — of sitting Republican governors, senators and House members have endorsed a candidate" — meaning that many are waiting to make sure their endorsement will matter before announcing anything.
Many of Bush's 17 endorsements came from Florida, seemingly at the expense of one of fellow Floridian Rubio, who has gotten only one endorsement so far, according to FiveThirtyEight. Bush has received a thumbs-up from moderate Maine senator Susan Collins, and representatives from Illinois, New York, Texas, and Nevada, too. Although it's not on the endorsement list, former New York mayor Michael Bloomberg noted that "Hillary and Jeb are the only two who know how to make the trains run," while becoming an honorary knight last April. 
Reason He's a Front-runner: He Is a Money Magnet
Of course, another defining characteristic of a front-runner is sucking up the most campaign donations. According to the Washington Post, Bush's campaign raised an average of $760,000 a day (compared to $570,000 for Clinton) last quarter. None of the other Republican candidates came close. Bush has also drawn support from more previous Romney donors than any other candidate has (though most have yet to give any money this cycle). Most of Bush's campaign donors have already donated all the money they can, which means that he will need to find a whole new set of donors if he wants to keep posting impressive returns. 
But the campaign itself is only a small part of the money picture. Bush's Right to Rise super-pac has raised $103 million so far. More than 20 donors have given the super-pac more than $1 million — despite Bush asking them not to. All told, Bush has raised more than double what all his primary opponents have raised so far. Big names from the Republican establishment populate his super-pac's donor list.
Reason He's Not a Front-runner: Money Can't Always Save You
The 2012 election is the only case study we have on how outside groups work in presidential races, so it's not clear how much of an advantage all that super-pac money will be for Bush. In 2012, more than two-thirds of outside spenders supported losing candidates. Super-pacs weren't an antidote for any other shortcomings a candidate might have had either. During the 2012 primary season, super-pacs "mostly just kept candidates who should have flamed out sooner in the race for longer than they normally would," says as Viveca Novak at the Center for Responsive Politics, a nonprofit keeping tabs on money in politics. Sheldon Adelson gave Newt Gingrich a few million to help him stay in the race — and even win a primary. Rick Santorum had the help of Foster Friess. If you're flailing or not in a position to win the nomination, super-pac money can't do much to save a campaign — only prolong the misery. 
However, Mitt Romney's super-pac money only helped, bolstering the advantages he already had.
Bush's super-pac fundraising "certainly doesn't mean he will be the nominee," Novak says. But the money might just mean he could outlast all his opponents in an electoral blinking contest, still able to run ads and pay staffers in the primary dog days of June 2016.
What does it all add up to?
Bush is not a Hillary Clinton–style front-runner — which would have been too much to expect in a pre-primary summer with a surfeit of variables and opponents who gave up their day jobs to become electoral white-noise machines — but he is definitely the candidate most likely to win an endurance contest at this point. And as Mitt Romney showed in 2012, sometimes a front-runner façade, an insane amount of patience and money, and perhaps some popcorn, can be enough to win a primary, even if it isn't the most elegant way to go about it.