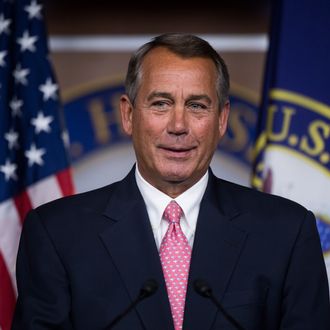 Ted Cruz 2016 supporter John Boehner.
Photo: Bill Clark/CQ Roll Call
Since Ted Cruz habitually undermines the GOP leadership and threatens to shut down the government, we assumed that House Speaker John Boehner was not a big fan, and now he's confirmed it: Boehner called the Texas senator a "jackass" at a Colorado fund-raiser on Wednesday night. Two people in attendance told the Daily Caller that Boehner said he's happy the 2016 campaign is keeping "that jackass" out of D.C., so he can't tell Boehner how to do his job. Attendee Ed MacArthur complained that the remark violated President Reagan's "11th Commandment." "I don't think it's terribly speaker-like, and I think it kind of goes against everything that Reagan ever said about disparaging Republicans," he explained.
In Boehner's defense, smoking, cursing out Harry Reid, and sniping about his GOP colleagues at private fund-raising events appear to be his only methods of coping with his terrible job. Boehner's office has yet to respond to requests for comment, but we assume this is his reaction to the Republican outrage over his Cruz-bashing: