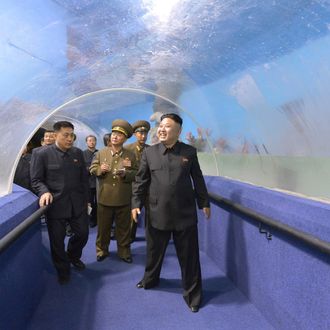 A day after North Korea and South Korea began engaging in a freestyle propaganda battle on the border, Kim Jong-un has told his troops to prepare for war. The military is supposed to be "fully ready for any military operations at any time" by 5 p.m. on Friday; North Korea has told South Korea it has until 5 p.m. on Saturday to turn off the 11 loudspeakers projecting South Korean pop music and news of North Korean officials being executed.
"Psychological warfare against [North Korea] is, in essence, an open act of war against it," North Korea's state-run news agency announced on Friday. 
North Korea fired up its own loudspeakers — which have been retired since the two countries agreed to stop blaring propaganda at each other in 2004 — but they are so old that most South Koreans can't quite hear the great news about Kim Jong-un that is being broadcasted. South Korea's loudspeakers are reportedly loud enough to be heard from 12 miles away. About 2,000 South Koreans living near the border have been evacuated to underground bunkers; the country's military is on high alert.
North Korea has been threatening to attack South Korea for quite awhile — last week, when pamphlets mocking Kim Jong-un floated over the border, the official Korean Central News Agency said Seoul might be turned into a "sea of fire." A State Department spokesperson told NBC News that "these kinds of provocative actions only heighten tensions, and we call on Pyongyang to refrain from actions and rhetoric that threaten regional peace and security." 
A professor in Seoul that spoke to the Los Angeles Times about Kim's preparations for a "fully armed state of war" said it "is a strange concept because North Korea lives in a sort of perpetual quasi-state of war." The two countries have technically been in a state of war for more than half a century.