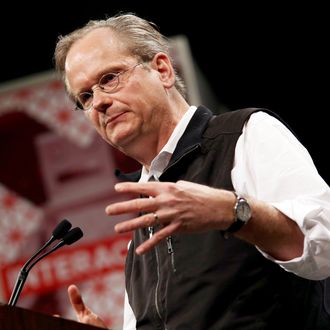 Photo: Sandra Dahdah/Getty Images
Lawrence Lessig, a Harvard law professor whose anti-big-money super-pac inspired the headline "How to Waste $10 Million" last year, is thinking about joining the Democratic presidential primary.
According to his video announcement, Lessig would only serve as president long enough to end gerrymandering, pass campaign-finance reform, and expand voting rights. After accomplishing all that — a wish list he seems confident that he would be able to finish in less than eight years regardless of factors like divided government, state legislatures that disagree with Lessig on these issues, and a Supreme Court that has struck down legislation concerning these issues — Lessig says he would resign and let his vice-president take over.
He offered Senator Elizabeth Warren — who has repeatedly said she has no desire to be president right now — and Senator Bernie Sanders — who is currently far ahead of Lessig in the primary polls and drawing tens of thousands of supporters to his campaign events — as possible VP picks (having the Democratic primary end with Sanders becoming Lessig's running mate would be like presidential nominee George Pataki choosing Rand Paul as his vice-president). The campaign-finance activist says he'll definitely run if he raises $1 million by Labor Day. 
Lessig told the Washington Post that "obviously there's a bunch of big hurdles to get over to make" his idea work, but he's at least confident that he'll be able to get the one percent support in the polls necessary to appear at the first Democratic debate on October 13.  
"That one percent of America has watched my Ted Talks," he explained.