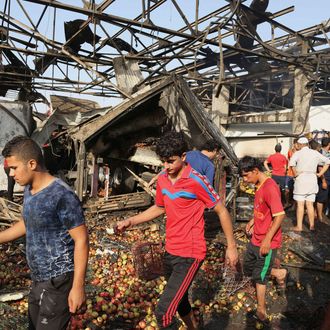 Photo: Karim Kadim/AP/Corbis
A bomb in a refrigerated truck that went off in a busy market in Baghdad on Thursday morning has left at least 60 people dead and at least 100 more injured — the highest death toll Iraq's capital has seen in two years. ISIS claimed responsibility for the attack. 
"Many people were killed and body parts were thrown on top of nearby buildings," a police officer told Reuters. A man who usually visits the market in the Shiite neighborhood of Sadr City on Thursday mornings, but woke up late today, told the New York Times, "On my way over, I heard the sound of a very big explosion, and then I managed to drive there and when I arrived, it was a horrible scene of bodies and dead people lying everywhere. There was blood everywhere, and people were running." A shopkeeper who lost two of his workers in the blast told the Washington Post, "At the site, you couldn't distinguish between human flesh and the meat people were selling."
The market is usually especially busy on Thursdays, with residents stocking up for the weekend. 
At a press conference on Wednesday — the last one General Raymond Odierno had to do before retiring —  the army chief of staff said that "right now we are kind of in a stalemate, frankly." 
"We could probably go in there with a certain amount of American force and … defeat [the Islamic State]," he added. "The problem is we would be right back where we are today six months later. For me it's about changing the dynamics, the political dynamics, the economic dynamics, and it has to be done by those in the region." Prime Minister Haider al-Abadi has said that he seeks to repair relationships with Sunnis in his country — who are still very wary about the government — and is putting a new anti-corruption plan, which was just unanimously approved by parliament, into play. "I congratulate all Iraqis on the approval of the reform package, and I promise to continue the way of reform even if it costs me my life," Abadi said in a statement.
ISIS has bombed several other areas in Iraq still controlled by the government in the past few weeks. A spokesperson for the Iraqi Interior Ministry told the Times, "We are expecting more attacks as long as we are advancing in areas of operation against ISIS."