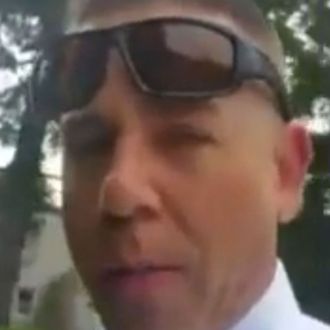 Long Island resident Stephen Ruth had just about had it with those pesky red-light cameras, which always nailed him for not waiting three seconds even though no cars were coming in his direction. Well, no more — 42-year-old Ruth, of Centereach, decided he would put an end to this injustice, not just for himself, but for his fellow hardworking Americans.

In a YouTube video, which Ruth may now regret posting online, he lays out his D.I.Y. ticket-fixing scheme, which starts with two simple steps: Grow a pair of balls and get an extension rod. Then take that rod and push the camera lens upward, so rather than catching people blowing through red lights, the camera records clouds inching across the sky. "I'm going to show you how easy it is to take the power back. It doesn't take but more than a minute to do this," Ruth says in the video. "And the gratification — the gratification is huge."
"You save our taxpayers, you save innocent people a lot of money," he adds. "This is government taking advantage, and it's gonna stop."
Suffolk County police, however, have nipped Ruth's crusade, arresting him at his home Tuesday. Ruth apparently fiddled with cameras twice at one intersection, and another two cameras elsewhere in Suffolk County, according to police. He is being charged with four counts of criminal tampering and obstruction of government administration, which is probably more serious than just paying the $80 (a $50 fine, plus $30 administration fee) ticket. 
Ruth posted on Facebook after his arrest, and admits he knew he might get in trouble for his vigilantism, though he's not backing down: 
To all the people thinking "why would he do that? Didn't he think he was going to get arrested?" Of course I knew I would be arrested. I did it for the people who come back from war and get abused by these cameras. I did it because senior citizens are getting these, the same ones that went to war for us. These same seniors live in New York's high cost environment and are being forced out of New York because of its high taxes. I also did it because every vehicle that you see with an out of state license plate is not receiving these tickets regardless of who they are. These same people live in our state and pay lower insurance rates because their cars are registered out of state under someone else's name.
But it seems Ruth isn't the only one pissed off at the tyranny of red-light cameras, and many people are showing their support for him online. One user simply replied "Amen" to Ruth's Facebook manifesto. Another commenter wrote: "We should go to court in the morning and stick by this hero." 
Ruth's next court date is October 27, according to his Facebook, while the reign of the red-light cameras continues.