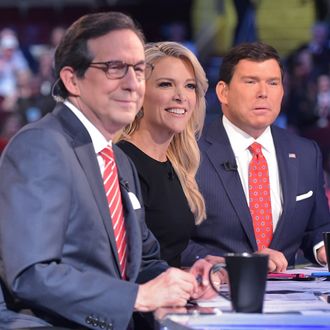 Debate moderators Megyn Kelly, Chris Wallace, and Bret Baier on August 8, 2015.
Photo: Mandel Ngan/AFP/Getty Images
It's now clear that Donald Trump and top adviser Roger Stone had some serious issues (it's unclear whether Stone quit or was fired), but what would Thursday night's debate have looked like if Trump had actually heeded his advice? While Trump boasted that he wasn't really doing any debate prep, the Washington Post reports that he did hold some informal prep sessions at Trump Tower, which "consisted mostly of Trump reading printed-out news articles about policy developments in Washington, culled by spokeswoman Hope Hicks."
For several weeks, Trump had reportedly been ignoring advisers who urged him to develop a more detailed economic plan and release policy planks. In a 13-page memo obtained by the Post, Stone encouraged Trump to ignore attacks on the debate stage, focus on the economy, and point out that he's a unique candidate "who cannot be bought." Stone described the race as a contest between "[a] builder, an entrepreneur and a capitalist versus a bunch of politicians who are clearly part of the problem," and suggested Trump offer up this remark during the debate: "I'm running because when I look at this field — all perfectly nice people — I know that none of them could ever run one of my companies. They are not entrepreneurs."
That's far less memorable than pretty much everything Trump said during the debate, and the candidate told the Post on Sunday that regurgitating sound bites is antithetical to everything his unhinged, but bizarrely successful, campaign is about. "I don't follow any memo, actually, because no memo can prepare you for what goes on in these campaigns or at these debates," Trump said. "I've got to be me. That's why I am where I am, leading the polls. It's not because of memos. The whole thing — the debate, asking me to raise my hand about running as an independent, everything — it was wild."
It turns out the Fox News moderators had also prepared some boring lines that they didn't wind up using during the debate. Bret Baier told the L.A. Times that if Trump went off the rails, they planned to regain control of the debate with a Celebrity Apprentice reference: "Mr. Trump, in your business you have rules. You follow rules. We have rules on this stage. We don't want to have to escort you to the elevator outside this boardroom." It's hard to imagine that corny admonishment silencing Trump, but luckily he saved his meltdown for after the debate.
Despite reports that Roger Ailes decided to turn on Trump during Thursday night's debate, the Fox News CEO told the Times he merely encouraged his moderators to be tough but fair, and had no input on which questions were asked. He also brushed off complaints that the network was too hard on the candidates, particularly Trump. "Most of the criticism I get is from the right because they assume I'm going to do a certain thing and I don't necessarily do what anybody assumes," Ailes said. "This is an example of that."