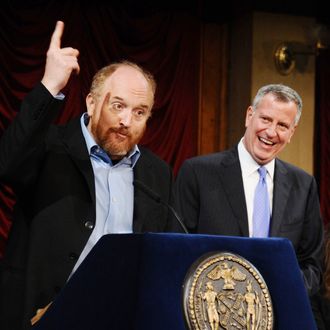 Mayor Bill de Blasio and his secret admirer.
Photo: Ilya S. Savenok/Getty Images
On Tuesday morning, a man introduced as "Louis From the Village" called in to "The Brian Lehrer Show" to talk about Mayor Bill de Blasio on an episode about his "optics" problem. WNYC thought that the caller's voice sounded familiar. 
"You know, I really like this mayor, and it's bothered me that there's sort of a culture of clickbait in the news right now that only little negative stories get attention," the caller said in a monologue that would inspire dozens of clickbait posts highlighting his positive commentary on the de Blasio administration. "Louis From the Village" is one of the 44 percent of New Yorkers who currently think the mayor is doing a good job.
"I don't want a mayor that spends all his time bragging and taking victory laps. You want a guy or a woman who just does good and moves on to the next thing, but the press today, they don't make any money on articles about, 'Hey, look, this job number's up.' They make money on articles about, 'Look at this pointless gaffe that the mayor did.'"
"I really like this mayor," he ended. "I think he deserves a better chance than he's getting."
A few weeks ago, Louis C.K. followed the mayor around for two days for an upcoming comedy project. "He's a nice guy," the comedian told the New York Times. "And he's been really accommodating. So hopefully I'm not bothering him." De Blasio's new unofficial cultural liaison acted as the mayor's anger translator — as Gothamist put it, "basically, the mayoral Luther" — at the Inner Circle Show last March. He offered a riff similar to the one he might have unleashed today, if a little less public-radio-friendly. 
Is there anybody more useless than a reporter? He hates those people. Just get out of the … way. Okay? You wield power and add nothing … If you weren't here, he would fix everything in three fucking days.