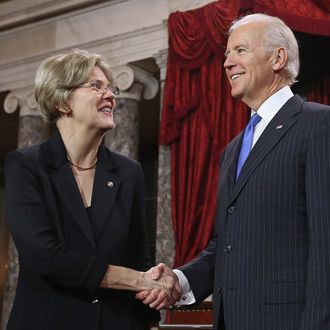 Photo: Chip Somodevilla/Getty Images
CNN reports that Vice-President Joe Biden held an unscheduled, private meeting with Massachusetts senator Elizabeth Warren today in Washington, which they call "another sign [Biden] is seriously deciding whether to jump into the Democratic presidential race." Both Democrats have been the focus of passionate campaigns by liberals to draft an alternative to Hillary Clinton for the Democratic presidential nomination, though only one, Biden, has ever seemed amenable to that idea. So far, Senator Warren has not yet formally endorsed any of the Democratic candidates for president.
Earlier today, the New York Times reported that Biden, motivated by Clinton's continuing problems dealing with the State Department email scandal and dropping poll numbers, is continuing his back-channel efforts to map out a possible presidential run. They note that Biden has been talking to Democratic donors, both in his personal circle as well as those who have supported his and President Obama's previous campaigns, and that some key Democrats who are already supporting Clinton, like former Senate Democratic leader Tom Daschle, have said they would reconsider that support if Biden became a viable alternative. 
The Times adds that the vice-president's supporters "argue that given the unpredictability of a campaign season in which both Bernie Sanders and Donald J. Trump have won a following, it is folly to dismiss Mr. Biden's chances." Team Biden insiders continue to suggest it will be several weeks before Biden makes a final decision one way or the other. 
Warren, despite the wishes of many Democrats and an organized Draft Warren campaign among her supporters, repeatedly rebuffed calls for her to run for the nomination herself. No one has yet reported any details regarding what Biden and Warren were actually meeting about, but if Biden did choose to run, obviously Warren's endorsement would become a massive deal within the Democratic field.