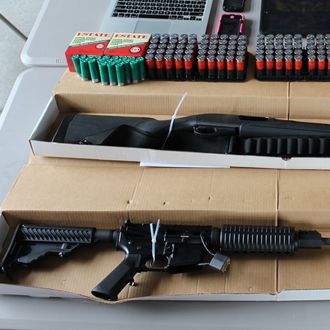 Photo: Boston Police Department
The Boston Police Department announced today that they have arrested two men who had driven to this weekend's Pokémon World Championship in Boston with an AR-15 rifle, shotgun, and several hundred rounds of ammunition after making threatening comments about the event on social media. According to Boston Police, 18-year-old Kevin Norton and 27-year-old James Stumbo, both from Iowa, had made those "threats of violence" on Facebook prior to traveling to the event, where they had been invited to play in the "Master's Division" at the card-game tournament. Those threats were then passed along to security personnel at the event, who notified police. When the pair arrived and tried to enter the event, held at Boston's Hynes Convention Center, they were detained. Police ultimately searched their car, found the weapons and ammunition, and arrested the men, as neither was carrying permits for the weapons.
Kotaku and the Daily Beast were able to locate a public Facebook post on a Pokémon players group page in which Stumbo posted a photo of a car with guns lying across the trunk accompanied by the message that he and Norton were "Ready for worlds, Boston here we come!!!" After another user commented on the post, wishing them luck, Norton replied, "With killing the competition?"
Kotaku also spoke with a "Pokémon expert" familiar with Stumbo who said he was a "self-proclaimed gun enthusiast" but otherwise "seemed like a chill person but he is also the type to be sarcastic and joke around."
The Beast reports that Stumbo told police the Facebook post was taken out of context, while Norton told them where their car was and acknowledged that they had firearms inside it. When neither man could produce a license to carry, police seized the vehicle and eventually searched it Friday after obtaining a warrant, finding the weapons. Norton and Stumbo were then arrested on firearm-related charges at a Boston-area motel on Saturday.
The Pokémon Company International released a statement regarding the arrests:
Prior to the event this weekend, our community of players made us aware of a security issue. We gathered information and gave it as soon as possible to the authorities at the John B. Hynes Veterans Memorial Convention Center who acted swiftly and spearheaded communication with the Boston Police Department. Due to quick action, the potential threat was resolved. The Pokémon Company International takes the safety of our fans seriously and will continue to ensure proper security measures are a priority.
It's not yet clear if the two men were actually planning an attack at the tournament.