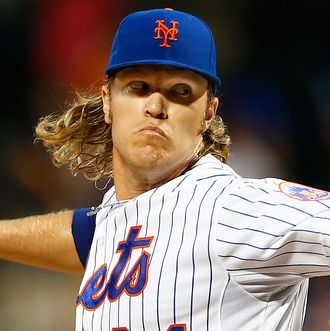 Noah Syndergaard.
Photo: Rich Schultz/Getty Images
Last night may have been the most anticipated game in Citi Field history: Just days earlier, the Mets had acquired outfielder Yoenis Cespedes — a move that not only bolstered the Mets' lineup but generally excited the team's fan base, which had been calling for Sandy Alderson to improve the team (and its offense especially) at the trade deadline. The Mets had already won the first two games of their series with first-place Washington to move within a game of the division lead, and rookie Noah Syndergaard, who'd just finished a pretty excellent July, was set to take the mound. Factor in that it was ESPN's nationally televised Sunday night game, and it's hard to remember a game since Shea Stadium closed that Mets fans had been looking forward to as much as this one. And the team didn't disappoint: With a 5-2 win, they moved into a tie for first place in the N.L. East.
Syndergaard was awesome, striking out nine and walking no one in eight innings of work, and the Mets did all their scoring in the third, when three different players homered, including Lucas Duda, who's now hit nine homers in eight games. The Mets have played two more games than the Nats, who technically have a slightly higher winning percentage than Terry Collins's club (.52427 to .52381). But the standings this morning show the Mets with a share of first place. It's the latest point in the season they've been in even a tie for first since September of 2008, their final month at Shea Stadium.