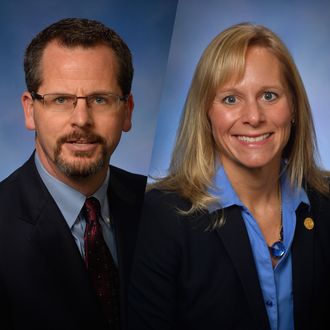 Photo: Michigan House Republicans
Michigan state representative Todd Courser, who unsuccessfully orchestrated a fake scandal in order to hide his affair, posted a nearly 30-minute explanation for his behavior on SoundCloud this morning. Courser admitted that he was responsible for the mass email sent to Republican activists in the state claiming that he was "a bi-sexual porn addicted sex deviant!" who was "caught behind a Lansing nightclub" having sex with a male prostitute.
The freshman representative said he sent the email because he was receiving anonymous texts about his relationship with fellow tea-party politician Cindy Gamrat — texts he assumed were coming from his former staffers, who were fired after they learned about their boss's affair. 
"The email in question was really put in motion to disrupt, disrupt the blackmailer and to give me some clues as to what their ability was as far as surveillance over my life and the threats they were making," Courser said in the audio message, which he reportedly emailed out at 4 a.m. He added, "It was not my finest moment."
Courser then said that "the blackmailer's still operating, goading me. So I'm not sure how big the ring still is, but they're still out there and still anonymous." He alleged that his staffers worked with Republican State House Speaker Kevin Cotter to bug his office so they could "extract their revenge."
Cotter told the Detroit News that Courser's accusations were "just ludicrous." 
"He's really displayed a long and consistent pattern of that type of paranoia," he said. "There are no black helicopters here; no drones circling the House Office Building." Cotter called for the House to conduct a nonpartisan investigation to find out if Courser and Gamrat had used government funds to hide their relationship. The pair shared an office and staffers — a setup everyone thought was weird since their districts are nowhere near each other — and their computers have already been seized by authorities. Courser's former staffers released a joint statement saying that "an investigation will reveal the truth" — namely that "[t]here is absolutely no truth to the accusations against us." 
Republican governor Rick Snyder said today that an investigation was essential, and that if Courser was blackmailed, "that's what the Michigan State Police are for. If you're being blackmailed, shouldn't you have contacted the police and proceeded that way?"
Courser has no plans to resign or submit "to the authority of the establishment machine." He says that he feels obligated to reveal the "political shenanigans" happening in his state, a subject in which he has much expertise, and compared himself to the Founding Fathers, who sometimes had to just tell the world about their affairs since email chains were not yet a viable diversionary tactic. "They were all flawed and some deeply so. And yet they didn't seem to see that … as a reason to not serve. And they served." 
Cotter does not seem eager to welcome Courser back to the state legislature. 
"If this weren't so offensive, it might be funny," he told the Detroit Free-Press. "He sends out these ridiculously long e-mail rants, about the so-called establishment, and uses words like mafia and cartel," Cotter said. "But no one else did wrong here. These two representatives voluntarily engaged in the affair and they need to own up to that. There are 107 other members of the House currently serving. It's so unfair to this institution as a whole and it's so unfair that we have this type of distraction."