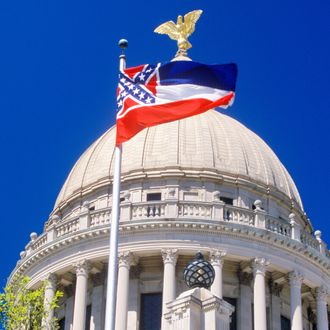 The Mississippi statehouse.
Photo: Getty Images
Ole Miss coach Hugh Freeze and Mississippi State coach Dan Mullen were among the high-profile names to sign a full-page newspaper ad this weekend calling for the removal of the Confederate emblem from the Mississippi state flag. Celebrities like Jimmy Buffet, Morgan Freeman, and John Grisham also signed the letter, which appeared in the Jackson Clarion-Ledger, but with football season approaching, the inclusion of the rival SEC coaches drew extra attention to the cause.
The Mississippi state flag includes the Confederate symbol in the upper left corner, and with the removal of the Confederate flag from capitol grounds in South Carolina and Alabama, Mississippi is the only state still flying the emblem over the statehouse. "It is simply not fair, or honorable, to ask black Mississippians to attend schools, compete in athletic events, work in the public sector, serve in the National Guard, and go about their normal lives with a state flag that glorifies a war fought to keep their ancestors enslaved," the letter reads, in part. "It's time for Mississippi to fly a flag for all its people."
Freeze, a Mississippi native, had spoken out against the current state flag earlier this year, telling reporters during SEC media days last month that "I think it's time that we move in a different direction." At the time, Mullen had stopped short of calling for the flag to be changed, avoiding the question by talking instead about the diversity of the Mississippi State campus.
State senator John Horhn explained to the Clarion-Ledger why the issue matters not just to businesses in the state, but to coaches who rely on recruiting to build competitive teams. "The tide is turning with business leadership saying it hurts our ability to recruit corporations and with coaches saying it hurts our ability to recruit athletes," he said. "The flag is a turnoff."