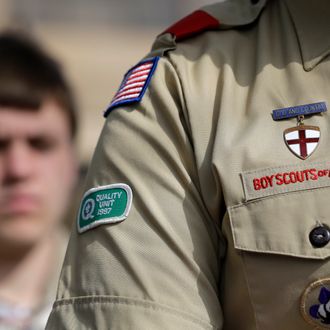 Brad Hankins, a campaign director for Scouts for Equality, speaks in front of the Boy Scouts of America headquarters on February 4, 2013.
Photo: Tony Gutierrez
After the Boy Scouts of America lifted its ban on openly gay adult leaders last month, the Mormon Church said it was "deeply troubled" by the decision and would have to reconsider its affiliation with the group. On Wednesday the church announced that it will stay with the Scouts, as the new policy allows local sponsors to select leaders "according to their religious and moral values." "At this time, the Church of Jesus Christ of Latter-day Saints will go forward as a chartering organization of B.S.A. and, as in the past, will appoint scout leaders and volunteers who uphold and exemplify church doctrine, values and standards," the church said in a statement. The Mormon Church's exit could have had serious consequences for the organization, as it's the biggest single sponsor of Boy Scout units, accounting for 17 percent of youths in Scouting in 2013.