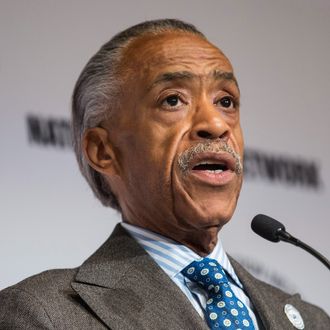 Reverend Al Sharpton speaks at the National Action Network national convention on April 8, 2015 in New York City.
Photo: Andrew Burton/Getty Images
As part of its ongoing overhaul, MSNBC announced today that Reverend Al Sharpton's show, which currently airs weekdays at 6 p.m., will be moved to Sundays at 8 a.m. Politico reports the last weekday PoliticsNation will air on September 4, and the new show will start on October 4. The weeknight slot will initially be filled by an hour-long news broadcast, and MSNBC president Phil Griffin said they'll "share our plans for a new 6 p.m. show" soon.
In a memo sent to staff on Wednesday, Griffin also congratulated Sharpton, and said he's "looking forward to seeing what he can do with a Sunday morning newsmaker program." In an interview with the Daily News, Sharpton painted the move as a step up, not a demotion. He said he's "very happy" and thinks he can "help set the policy tone" for the news programs that air later on Sunday.
"First, I can reach a wider audience of people who don't get home by 6 at night. Second, I can now get the A-list guests and newsmakers I want. And third, a Sunday morning host is what I always wanted to be," he said. "I never wanted to be a weeknight pundit. I wanted to be a Sunday morning newsmaker. I wanted to be Dr. Martin Luther King, not Larry King."