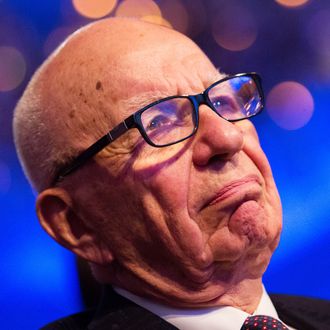 Rupert Murdoch.
Photo: Drew Angerer-Pool/Getty Images
In a particularly sad 2012 election subplot, Mitt Romney's effort to woo Rupert Murdoch resulted in the conservative mogul gradually registering his displeasure with the Republican nominee in a series of cryptic tweets. Apparently he'll continue the practice in 2016. Murdoch has already called Donald Trump "wrong" and "embarrassing" on Twitter, but on Sunday night he tried a more subtle attack: calling for his pal Michael Bloomberg to enter the race.
Murdoch started with mild praise for Trump, lest he add fuel to the dispute between Fox News and the GOP front-runner:
And what about rumors that the former mayor would run as a Democrat?
As New York's Chris Smith reported in June, Bloomberg probably isn't considering a run, but a billionaire can dream.
Update: Later Murdoch clarified that he might not even vote for Bloomberg: