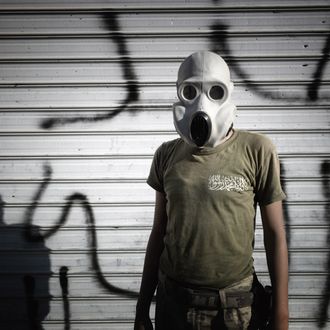 Photo: Musa Chowdhury/Demotix/Corbis
Twenty-year-old Nader Saadeh is scheduled to appear in federal court in Newark on Monday after being charged with conspiring and attempting to provide material support to ISIS. 
He allegedly planned to form a "small army" of Islamic State supporters in New York and New Jersey, according to authorities, and posted messages online about the ISIS flag, the Charlie Hebdo attack, and his hatred for the United States. Saadeh lived in Rutherford, New Jersey, until this May, when he moved to Jordan — allegedly to join ISIS. He was reportedly taken into custody in Jordan — he is a dual citizen — earlier this year.
Saadeh's brother and two other men were arrested in June on ISIS-related charges. The FBI's investigation into the brothers and their friends began after a tipster warned that they might all go abroad to join ISIS. Saadeh told his friend that he was going abroad to study theology. The friend thought this was "very suspicious because Saadeh had never been very studious." Saadeh's mother sent him texts asking him "not go anywhere if u love me" and saying "i want be happy all the time do not leave me do not go to them!"
Before Nader Saadeh's brother was arrested, he allegedly spoke about his brother's plans to move to Jordan while an informant secretly recorded the conversation. Alaa Saadeh told his friends to "just play dumb" if anyone asked about what his brother was doing. "Like you just really don't know. That all you know is that he was going to see his parents." The criminal complaint also noted that Alaa Saadeh changed his mind about joining ISIS after getting arrested, saying he "no longer believed they 'were good.'"