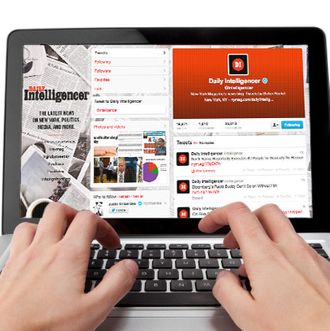 Welcome back to the New York Magazine Competition. On alternate Mondays, we lay out a challenge and offer sample responses. Enter in the comments section or on Twitter with the hashtag we've provided, and the editors will select a winner. Criteria are highly subjective, but heavily retweeted and favorited posts will have an advantage. The prize is a year's subscription to New York in print or a two-year subscription to the iPad edition (winner's choice). Full rules are here.
COMPETITION NO. 55: "BROOKLYN A BOOK." Please retitle a novel for New York's literary borough of late.  For example:
THE WITCHES OF BUSHWICK

ROSEMARY'S NANNY

THIS ALTERNATE SIDE OF PARADISE 

RABBIT IS RICH, BECAUSE HE BOUGHT HIS BROWNSTONE IN 1973

ONE HUNDRED YEARS OF SOLID 'TUDE
Enter on Twitter with the hashtag #brooklynizeanovel, or in the comments thread below, by September 14.
RESULTS OF COMPETITION NO. 54, "MOVIES FOR SUMMER," in which you were asked to retitle a film for summer consumption.
HONORABLE MENTION TO:
The Month the City Stood Still
—BambooLounge
Little Too Much Sunshine
—PassTheTanningButter
3:10 to Humid
—BambooLounge
A Time to Grill
—@TeRevesz 
The Shining Forehead
— LCNYC
How Brown Was my Valley
—CaptServo
A Popsicle Now
—MiddleCoastDan 
The Baking of Pelham 1-2-3
—OldYeller62 
Fahrenheit 145
—queasyrider 
Of Humid Bondage
—RustyShackelford
Sophie's Moist
—Gabegirl
Butch Cassidy and the Sunburned Kid
—YAK52 
Fifty Shades of Sunburn
—@Sara8547 
Star Trek III: The Search For Spock's Flip-flops
—robstumpf 
The Last Of The Mojitos
—rmtmiller 
Broadway Danny Rosé
—nycityofmind 
ICEE What You Did This Summer
—BENLINUS99 
Swelter Island
—BobKopac
As I Lay Frying
—3North
Three Guys in the Fountain
—Periclescrystal
Swim, Fan
—@kingtengood
AND THE WINNER IS:
Big Hero Shvitz
—@debfreedman1