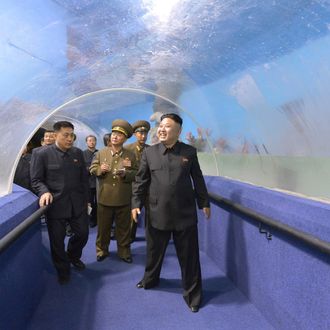 Life is good in your very own time zone.
Photo: KCNA / Reuters
North Korea, which already uses a different calendar than much of the world, reported on Friday that it plans to set its clocks back 30 minutes on August 15, creating a new time zone to celebrate the 70th anniversary of the end of Japanese rule. While Japan is currently nine hours ahead of Greenwich Mean Time, "Pyongyang Time" will be eight hours and 30 minutes ahead.
"The wicked Japanese imperialists committed such unpardonable crimes as depriving Korea of even its standard time while mercilessly trampling down its land with 5,000 year-long history and culture and pursuing the unheard-of policy of obliterating the Korean nation," the Korean News Central Agency reported.
South Korea has decided to stay in Japan's time zone, saying that North Korea's solution to fighting the country's influence is unpractical. 
North Korea is not the only country to declare its own unique time zone. Venezuela set its clocks back by 30 minutes for a "more fair distribution of the sunrise," while Nepal has a time zone only 15 minutes ahead of the clock in Delhi.
It seems unlikely that a patriotic changing of the clocks will suddenly fix North Korea's economic woes, or the drought it is said to be facing — or that it will cure Kim Jong-un's need to execute government officials. According to Monkey Cage, he has had 70 people killed since 2011. "His father Kim Jong-Il had executed only 10 officials when he was four years into his rule."