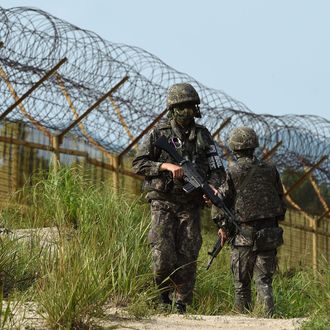 Photo: South Korean Defense Ministry via Getty Images
Tensions ratcheted up Thursday near the so-called demilitarized zone between North and South Korea, after a loudspeaker barking anti-North Korea messages sparked an exchange of fire.
North Korea apparently fired a rocket into South Korea's Yeoncheon province at about 3 p.m. local time Thursday, followed by several more shells that fell close to the border. South Korea retaliated by firing dozens of artillery rounds into North Korea, toward the site of the rocket's launch. More than 200 people have been evacuated from South Korea's Yeoncheon — the area where the North Korean rocket landed — and the surrounding border areas as a precaution. 
The two sides clashed after North Korea told South Korea to turn off its speakers screaming anti-Pyongyang propaganda or the country would attack the equipment. North Korean officials did not confirm that it had fired a rocket at the South, but did warn its neighbor that the message blasts represented a "serious, all-out challenge," according to Yonhap, South Korea's state-run news agency, and demanded Seoul take down the speakers within 48 hours, or face military action.
South Korea installed the speakers after an August 4 incident, where two South Korean guards patrolling the border were seriously hurt by two landmines. Seoul blamed North Korea for planting the mines; Pyongyang has refuted those accusations. South Korea booted up its speakers in response, the first time either country has used the tactic in 11 years. North Korea, not to be outdone, fired up its loudspeakers with anti-South Korean messages a few days later, pushing hostilities to a boiling point.
This back-and-forth propaganda campaign was common during the Cold War, and employed by both sides following the 1953 armistice that ended the Korean War and established the demilitarized zone between the two Koreas. According to the BBC, North Korea preferred to broadcast "martial music and praises to the country's rulers." The South instead DJ-ed their condemnation with pop, interspersed with some lectures on freedom and democracy. Speakers on both sides fell silent in 2004, upon a broader agreement to cool it with the propaganda (electronic billboards were also dismantled) and ease tensions. 
No casualties were reported on either side after Thursday's incident, the first major cross-border exchange in five years, reports the Times. (North and South Korea engaged in a minor skirmish in the Yellow Sea last year.) For now the audio arms race continues, as neither side has relented and taken down its loudspeakers.
This escalation of tensions also falls just as South Korea and the United States kicked off one of its annual joint-military exercises Monday, which North Korea perpetually denounces as an act of war. The military drills between the U.S. and South Korea will go until August 28, and though it's mostly computer-simulated, there are mock drills, which it seems like, for now, might play out to the competing sounds of democracy lessons and odes to Kim Jong-un.