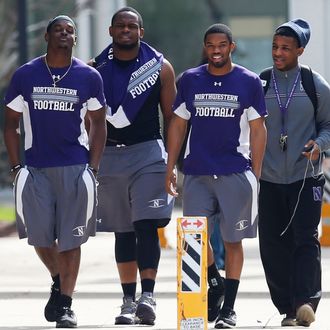 Photo: Jim Young/Reuters/Corbis
The National Labor Relations Board decided unanimously on Monday to dismiss the Northwestern University football team's petition to unionize. The decision cannot be appealed, but the board said this outcome doesn't "preclude reconsideration of this issue in the future."
By dismissing the petition, the NLRB avoided answering the big question everyone's been grappling with lately: Are college athletes primarily students or employees?
One of the big reasons the NLRB cited for its decision was the makeup of the Big Ten — Northwestern is the only private institution in the conference and one of 17 private colleges in the 125-member Football Bowl Subdivision. The NLRB only has jurisdiction over the private sector. "As the NCAA and conference maintain substantial control over individual teams," the 16-page decision argued, "the Board held that asserting jurisdiction over a single team would not promote stability in labor relations across the league." In other words, the NLRB wasn't interested in making a decision that could force a monumental change in how college athletics work. 
Last year, the regional NLRB director in Chicago told Northwestern that it could unionize, writing that players "fall squarely within the [National Labor Relations] Act's broad definition of 'employee' when one considers the common law definition of 'employee.'" 
The team voted on whether it wanted to join the College Athletes Players Association, an offshoot of United Steelworkers. The organization wanted schools to cover sports-injury expenses for athletes current and former, and bigger scholarships; schools have begun to honor a few of these requests — or have at least debated doing so — as plenty of people outside the industry have begun questioning the meaning of "student-athlete."
The university appealed that decision, however, and the ballots were left uncounted. Now that the petition has been rejected, the ballots will be destroyed without being tallied, and no one will know if the players even voted to unionize. Former Northwestern Wildcats quarterback Kain Colter led his team's union efforts. "The action we're taking isn't because of any mistreatment by Northwestern," he said in January 2014. "We love Northwestern. The school is just playing by the rules of their governing body, the NCAA … Right now the NCAA is like a dictatorship. No one represents us in negotiations. The only way things are going to change is if players have a union." Colter played with the Minnesota Vikings practice squad last season, and was cut from the team in May. 
According to Bloomberg, the 125 schools in the N.C.A.A.'s top football division turned a $1.4 billion profit during last year's season.