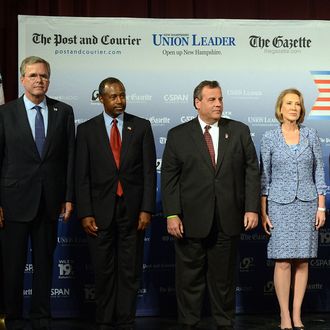 Photo: Darren McCollester/Getty Images
We're hunkering down in front of the TV to watch both Republican debates being shown on Fox News tonight. At 5 p.m., the candidates doing worst in the primary polls — Rick Perry, Rick Santorum, Bobby Jindal, Carly Fiorina, Lindsey Graham, George Pataki, and Jim Gilmore (yes, most of them know you haven't heard of them) — will take part in a forum. The big event is at 9 p.m., when those who actually have a chance of winning the nomination will debate the issues, argue about who hates the Iran deal and Obamacare the most, and wrestle with themselves about whether to engage with Donald Trump or not. The seasoned reality star frontrunner will be joined on stage by Jeb Bush, Scott Walker, Mike Huckabee, Ben Carson, Marco Rubio, Chris Christie, Rand Paul, Ted Cruz, and John Kasich. 
Daily Intelligencer will be watching all night; tune in to hear the highlights, blow-by-blow-fight-recaps, and commentary. Add your thoughts on the debates in the comment section below.