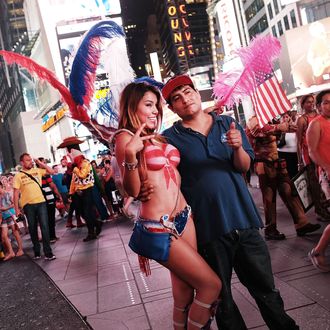 Photo: Spencer Platt/Getty Images
The NYPD may have come up with one solution to the topless women and pushy cartoon characters that haunt Times Square and are, according to Governor Cuomo, throwbacks to the "bad old" days. Police officials sent out a memo today announcing the formation of a Times Square Unit that would patrol on foot and deal with the hustling "desnudas" and other quality-of-life issues on the pedestrian plazas. 
The new unit is accepting officer applications, and will be separate from the counter-terrorism unit on the lookout for actual threats in Times Square. This announcement comes after weeks of debate over the nude performers who often push tourists for tips. Mayor de Blasio has formed a multiagency task force to deal with these entertainers, and even floated a not-so-well-received idea of tearing up the pedestrian plazas on Broadway to try to force the performers out of their natural habitat. He said no decision has been made on the plazas yet, and is asking for a formal recommendation from the group in October. 
And since the Times Square characters are also expanding to other parts of the city, NY1 reports that the task force has formed a subgroup to deal with Battery Park, Coney Island, and other tourist meccas where they are showing up. So get your picture with a creepy Elmo before it's too late.