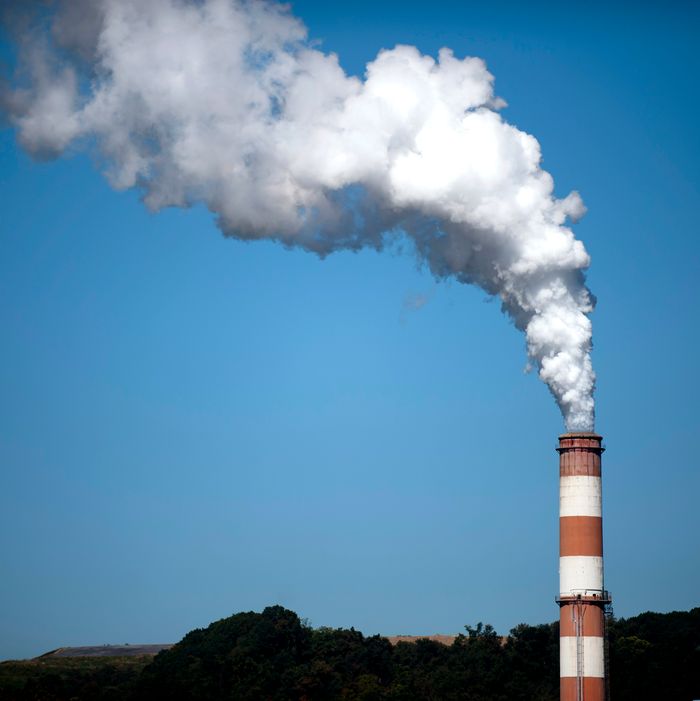 Photo: Jeff Swensen/Getty Images
On Monday, President Obama will release an ambitious set of environmental regulations designed to sharply cut greenhouse gas emissions from U.S. power plants, according to the New York Times and Washington Post. The new rules are the final version of the Clean Power Plan the administration previewed a year ago, and they've been revamped to adopt even tougher measures aimed at curbing pollution from coal-fired power plants, part of an overall effort to transform how the country produces and consumes electricity.
The updated measures set a goal of a 32 percent reduction in carbon emissions from existing power plants by the year 2030, whereas the draft plan called for a 30 percent reduction. In addition, the plan includes incentive programs designed to drive individual states and U.S. power companies toward faster adoption of renewable energy sources like solar and wind power. The final regulations are also intended to stem the construction of any new coal-fired power plants in the country, though only a handful have been built in the past few years. The previous plan had pushed for converting power plants from coal to natural gas, which burns 50 percent cleaner than coal, and while the new plan still encourages the adoption of natural gas, it makes the reduction goals more reliant on carbon-free energy sources. Under the updated plan, the percentage of U.S. electricity provided by renewable energy sources would thus be expected to increase to 28 percent by 2030. 
One of the primary points of push-back to the earlier draft plan was that it did not allow states enough time to adopt the proposed measures, and the new plan addresses that concern by giving states two additional years to comply (until 2022) and more flexibility to design and implement their own measures to achieve the cuts. States that meet the goals by 2020 will be rewarded, and an interstate cap-and-trade system will also be encouraged to help them do that. Another revision to the draft plan, again responding to criticism, will seek to ensure the reliability of the country's power supply as new plants and technologies are integrated.
Revisions or not, this final plan will face vigorous push-back and legal challenges from opponents in both the fossil-fuel industry and Congress, where Republicans insist the regulations will amount to unbearable cost increases for both fossil-fuel companies and consumers. In addition, previously announced emissions rules are already facing numerous lawsuits filed by individual states.
The release of the finalized plan Monday will kick off a series of events planned by the White House to highlight the problem of climate change, which Obama sees as a key legacy issue and one he intends to make progress on for the remainder of his second term. The new plan is also meant to inspire greater international efforts to cut carbon emissions before a U.N. summit in December where the issue is expected to be addressed and some kind of global accord signed. Said Obama in a video the White House released Saturday night, "Climate change is not a problem for another generation, not anymore."