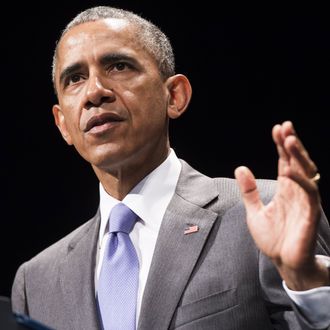 President Obama.
Photo: Saul Loeb/AFP/Getty Images
Earlier this summer, the word crazies prompted Donald Trump to question whether Senator John McCain is really a war hero, and now President Obama's use of the relatively innocuous term has sparked another controversy. During a fund-raiser in Las Vegas on Monday night, Obama said that while riding to the event with Senate Minority Leader Harry Reid, they spent time reminiscing and "figuring out how we're going to deal with the crazies in terms of managing some problems" when they get back to Washington. He didn't specify exactly which politicians they think are insane, but Politico reported that Obama was referring to opponents of the Iran deal, and that story was picked up by several right-leaning media outlets.
As the Washington Post notes, a transcript of the event shows nine paragraphs between Obama's "crazies" remark and his first reference to the Iran deal, but by that point Republicans had already taken offense. Thus, aboard Air Force One on Tuesday, White House spokesman Eric Schultz tried to clarify a few points with reporters. When asked if the president regrets his choice of words, Schultz said no, but he conceded Obama "may have been a little too flip," and "may have been a little glib in his language."
But Obama was referring to congressional Republicans: "If you take a step back … and look at what some Republicans have floated in Washington, whether that's shutting down the government, whether that's funding the government at sequester levels when the economy needs more support, he thinks those are reckless steps," Schultz explained. So conservative lawmakers can rest a little easier knowing that Obama thinks they're crazy due to their stance on various bureaucratic matters, not the Iran nuclear agreement.