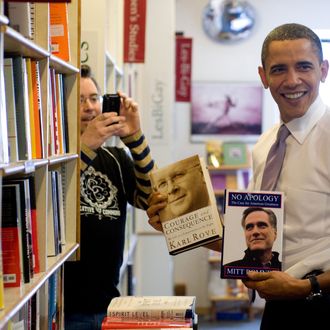 Potential material for a syllabus on how to win an election?
Photo: Saul Loeb/AFP/Getty Images
Columbia University president Lee Bollinger told students at a convocation on Monday to get excited, because President Barack Obama was on his way — as was First Lady Michelle Obama. Not immediately, though — students would have to wait until after he finished his term in 2017. 
Bollinger didn't explain exactly what the Obamas might be doing at Columbia, but he definitely set the gossip train in motion; the Columbia Spectator jokes that he might be getting ready to be "upstaged by Amal, [transfer] to vastly inferior Princeton," or wait in a "miles-long line at Duane Reade; [regret] giving all these people healthcare."
In April, the New York Post was already speculating that Obama might return to Columbia, where he graduated from in 1983, to teach at the law school. Before becoming president, Obama taught law at the University of Chicago, where his presidential library will be built. However, when the location of the presidential library was announced, his foundation said it also "intends to maintain a presence at Columbia University." Bollinger said at the time, "We look forward to hosting the foundation on our campus and take great pride in being part of the post-presidency of our alumnus."
Whether Obama's return to Columbia involves teaching, his foundation, or something completely different, he still has more than a year before it happens — which is plenty of time to find a new place to get a bagel, since his New York favorite closed in 2011.