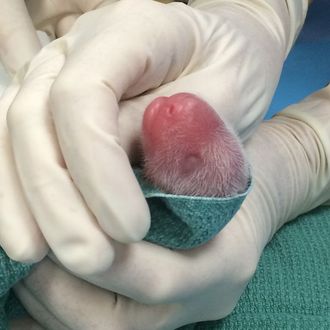 Photo: Becky Malinsky/Smithsonian National Zoo
If you saw the word "panda" and came here in search of adorable, happy news, turn away. 
The National Zoo has delivered the very sad update that the smaller of giant panda Mei Xiang's two newborn cubs died Wednesday afternoon. 
Mei Xiang gave birth to two healthy babies Saturday. Panda cubs are very vulnerable, and the first few days after birth are considered a "high-risk" time. In the wild, both twins would rarely survive as the mother panda lacks the energy to nurse two babies, so the female panda's caretakers, including scientists and zookeepers, swapped out the cubs every two hours so each could bond with mom, while the other stayed under close watch in an incubator.
But Monday night, zoo officials reported that they were having trouble switching the cubs, and needed to supplement the little one's feeding and keep the cub incubated. Zoo officials reported Tuesday the panda was still healthy, but then the panda started to regurgitate his food, and was given antibiotics. Finally, they stomped on the world's hearts by announcing the little one had passed away this afternoon.
Zoo officials said in a press conference that Mei Xiang did not reject the cub outright, and they are still not sure of the exact cause of the baby's death. One official said she was being "such a fiercely good mother," staff had difficulty making the swaps for both cubs at certain points because Mei Xiang was reluctant to give up the one she had in hand. The bigger baby panda remains with his mother, and is still strong and doing well, according to the Zoo, so everything is not the worst just yet.
Mei Xiang is also the mother of Bao Bao, who just celebrated her second birthday in style this weekend, and Tai Shan, who was born in 2005, and now lives in China. Mei Xiang lost other two cubs, one born stillborn in 2013, and another born in 2012 that survived just six days.