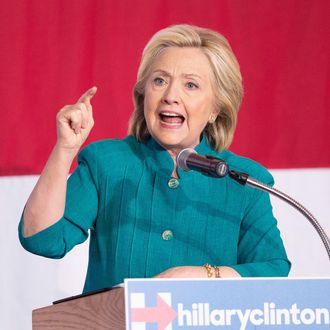 Photo: Scott Olson/Getty Images
Not to steal any thunder from tonight's big Trump vs. Those Other People fight in Cleveland, but the Democratic National Committee has released its 2016 primary debate plan. 
From Politico:
A total of six debates are scheduled, with six different sponsors: Oct. 13 in Nevada (hosted by CNN); Nov. 14 in Des Moines, Iowa (CBS/KCCI and The Des Moines Register); Dec. 19 in Manchester, New Hampshire (ABC/WMUR); Jan. 17 in Charleston, South Carolina (NBC/Congressional Black Caucus Institute); and two scheduled for either February or March in Miami, Florida, and Wisconsin, hosted by Univision/The Washington Post and PBS, respectively.
Only people who are polling "at least 1 percent in three credible national polls within the six weeks" of a given debate will be allowed on stage, which might not bode well for candidates who aren't Hillary Clinton and Bernie Sanders (that's Martin O'Malley, Jim Webb, and Lincoln Chafee so far). (And yes, Politico reports that, "Vice President Joe Biden's chief of staff has also been included on communications from the DNC about debate planning.") You have only 67 days to come up with the rules to your drinking game.