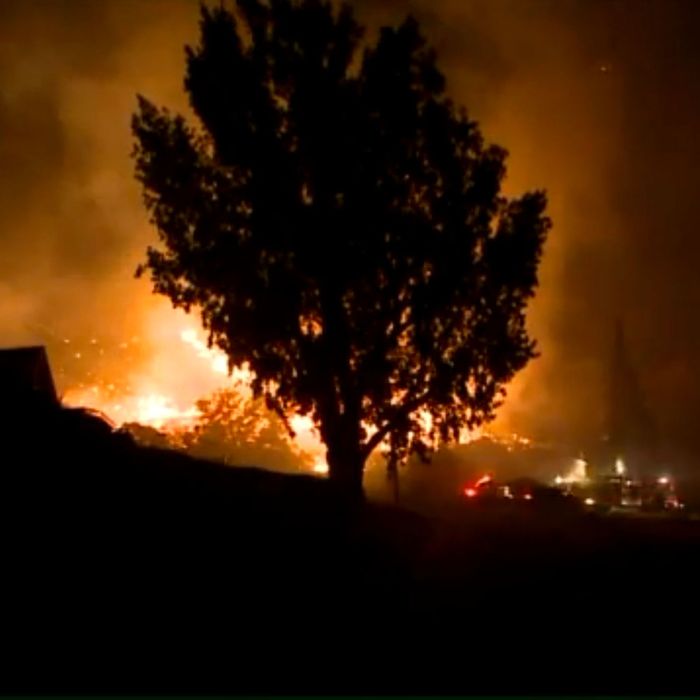 The western United States is burning. More than 100 wildfires are tearing through California, Oregon, Idaho, and Washington. The parched, dry landscape and heat are fueling these blazes, which firefighters across the region are struggling to control. One scene of devastation is Chelan, a usually booming summer resort town in central Washington state, where lightning strikes Friday ignited five fast-moving fires. The largest, dubbed the Reach Fire, merged with the others and now spans almost 60,000 acres. As of Sunday, firefighters had contained less than one percent of the flames. Another fire, First Creek, which continues to burn about eight miles west of Lake Chelan, has spread to 1,500 acres. 
Thousands have been evacuated in the Lake Chelan area. The blaze has consumed at least 21 homes, though officials say the fire is moving so fast they cannot account for the entirety of the destruction yet but estimate the final count will land closer to 75. The threat of the inferno has kept tourists away — visitors usually number in the thousands during the summer months — and dealt a blow to the area's fruit industry, damaging some orchards and destroying a plant and nearly 1.8 million pounds of apples.
Here is a snapshot of the damage wrought by the Lake Chelan's wildfire: the flames eating up everything in their path, and then what's left in its wake — charred, blackened wreckage.