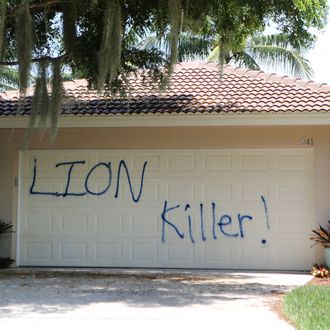 Angry animal lovers stormed the yard of the $1.1 million Florida vacation home of Minnesota dentist Walter Palmer on Monday, writing "LION Killer" on his garage door and scattering his driveway with at least seven hot-sauce-covered pickled pigs' feet. Palmer was identified as the hunter who killed Cecil, a famous lion living in a protected national park in Zimbabwe, last month. A security company has been tasked with guarding the house now, according to the Associated Press, and police officers are investigating the vandalism. The house's yard was invaded by protesting stuffed animals last week. 
Officials in Zimbabwe want to extradite Palmer, who is also dealing with a plummeting rating on Yelp, for "the killing, skinning and beheading of the lion." The dentist, who reportedly also wanted to kill an elephant, argues that his guide — facing trial next month — was supposed to ensure his hunt was legal. Richard Chibuwe, an official at Zimbabwe's D.C. embassy, told the Minneapolis Star Tribune, "We are hoping that things will move with a bit of speed."
Meanwhile, the company that makes Beanie Babies is taking advantage of this moment to try and recapture some of its long-lost relevancy. The deceased lion is about to inspire a new trendy toy — one that will help raise money for wildlife conservation. According to the Toronto Star, the Wildlife Conservation Research Unit at Oxford University has raised $1.1 million in donations recently. The group had been keeping tabs on the lion since 2008.