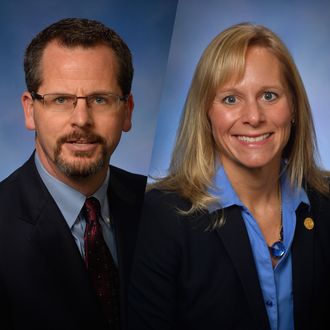 I've made a huge mistake.
Photo: Michigan House Republicans
Michigan state representative Todd Courser is facing possible investigation after his aide was mysteriously fired. The former staffer had refused to fabricate rumors about his boss's sex life to help the representative hide the fact that he was having an extramarital affair with his colleague.
Courser and state representative Cindy Gamrat — the woman he supposedly had a relationship with — are both tea-party Republicans who sponsored bills against same-sex marriage and abortion rights. They shared offices and staffers — despite the fact that their districts were on opposite ends of the state. Staffers sometimes complained about the setup, calling it "unprofessional."
Courser wanted his aide, Ben Graham, to send a mass email to Republican activists in Michigan alleging that the state representative had been "caught behind a Lansing nightclub" having sex with a male prostitute. The email also notes that Courser "is a bi-sexual porn addicted sex deviant!" and uses exclamation points sparingly. ("Christian conservative or Godless addicted monster! Truth!!!!")
"It will make anything else that comes out after that — that isn't a video — mundane, tame by comparison," Courser told his aide, according to audio Graham released to the Detroit News after getting fired. 
By Friday afternoon, at least one politician had called on Courser to resign. The Michigan State House speaker, Kevin Cotter, says he wants the nonpartisan House Business Office to investigate whether Courser used government funds to hide the affair and carry out his contrived and ultimately unsuccessful diversion. 
The aide told Courser that he didn't want to take part in a cover-up. "This kind of stuff never stays hidden. It's going to blow up, and I can't help cover it up. … My best advice, consider resigning," Graham texted, according to an article in which the relationship is revealed and turned into a national news story that will perhaps influence a future Arrested Development plotline involving Gob Bluth. 
This post has been updated throughout.