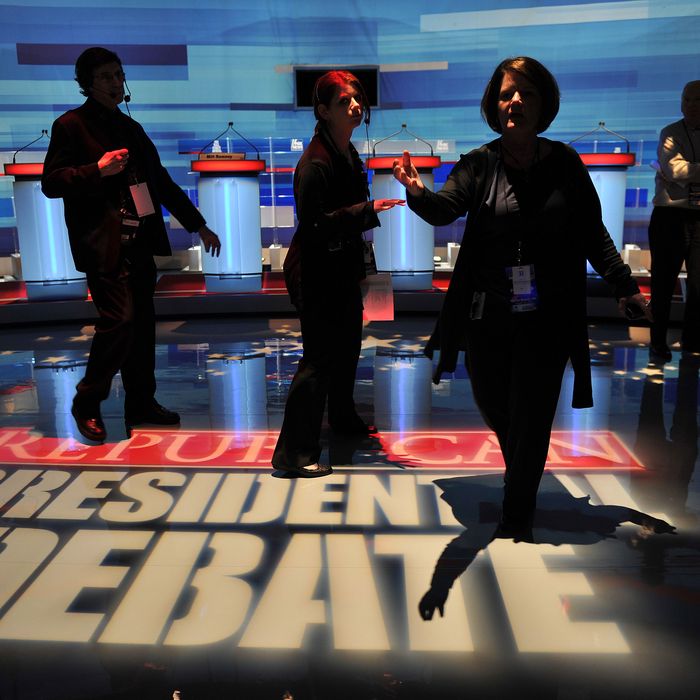 An empty debate stage in South Carolina, 2012.
Photo: Paul J. Richards/AFP/Getty Images
Tomorrow around 5 p.m., Fox News executives are scheduled to gather in Roger Ailes's second-floor conference room at the network's midtown headquarters to decide the lineup of candidates who will participate in the first Republican debate on Thursday in Cleveland. Fox's decision to limit the prime-time field to ten candidates has become a flash point in the GOP. Perhaps the biggest point of contention: The network's refusal to tell campaigns which polls it will be using to select the participants for the 9 p.m. debate moderated by Megyn Kelly, Bret Baier, and Chris Wallace (the remaining seven candidates will face off in a 5 p.m. debate that's being viewed as something of a JV contest). How Fox will choose the field has been an intense topic of speculation. 
According to a source with direct knowledge of the plans, Fox's team of election analysts is currently crunching numbers to set the field. "It's going to be the most recent polls by nonpublic entities," the network source explained. "They need to be done with live interviewers, as opposed to internet responses like what Rasmussen does." According to the source, candidates will be chosen from the following polls: Monmouth University (released today), NBC News/Wall Street Journal (August 2), Quinnipiac University (July 30), Bloomberg, CBS/New York Times, and Fox News (all releasing tomorrow). If a poll from ABC News or another organization fitting Fox's criteria is released overnight, then it will be swapped in. Based on the five most recent polls that meet Fox's standards, Trump will be center stage flanked by Jeb Bush and Scott Walker. On the bubble, it's looking like Ohio governor John Kasich will edge out Rick Perry for the final spot. If current numbers hold, the remaining prime-time participants will be: Marco Rubio, Ted Cruz, Mike Huckabee, Chris Christie, Ben Carson, and Rand Paul.
Given Fox's power to shape the 2016 GOP primary, campaigns are taking an aggressive approach to lobbying Ailes before Thursday's debates. According to a source close to the Trump campaign, Trump's friend Rudy Giuliani called the Fox chief the other day and asked Ailes to make sure Megyn Kelly doesn't go after Trump in her questioning. The feeling inside the Trump campaign — following an on-air grilling in May — is that Kelly doesn't like Trump. For its part, Fox is aggressively preparing to push back against criticism. According to one well-placed source, the network's analysts will be "pressure testing" the polls the network is using to anticipate potential lines of criticism and come up with possible defenses. In recent days, the network has added more staff to the team — including, according to sources, pollster Pat Caddell, a veteran of presidential campaigns. 
Fox News spokesperson Irena Briganti did not return a call for comment.