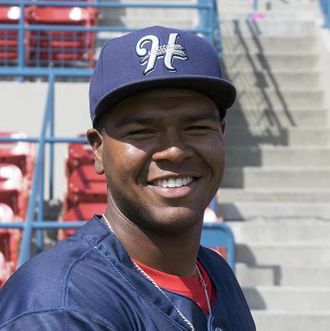 Major League Baseball is more than a hundred years old and has played an integral part in promoting racial and ethnic equality in America over its history, but it took until now for an active player associated with the league to publicly come out as gay. That player is 20-year-old David Denson, who is ranked as the 27th best prospect in the Milwaukee Brewers farm system, where he mans first base for the Pioneer League's Helena Brewers. According to the Milwaukee Journal Sentinel, Denson decided to come out after a teammate made a locker-room joke about him being gay, and taking advantage of the situation, Denson then acknowledged to his teammates that, indeed, he was. They subsequently offered him their full support, and Denson has since come out to the rest of the Brewers organization and, as of this weekend, the larger baseball world. Here's how Denson described the moment he told his teammates:
"Talking with my teammates, they gave me the confidence I needed, coming out to them," recalled Denson. "They said, 'You're still our teammate. You're still our brother. We kind of had an idea, but your sexuality has nothing to do with your ability. You're still a ballplayer at the end of the day. We don't treat you any different. We've got your back.'"
In a statement, Brewers general manager Doug Melvin has offered the organization's support as well, calling Denson a "highly respected member of the Milwaukee Brewers family" and a "very courageous young man."
Another young baseball player, Sean Conroy, who plays in an independent league not affiliated with the MLB, came out earlier this summer as well. Former MLB player Billy Bean came out after retiring from the game, and he's since returned to the sport as the MLB's first ambassador for inclusion. (Bean has been counseling Denson and helped him reach out to the Journal Sentinel.)
Denson additionally points out that hiding his sexuality was holding him back developmentally as a player — to the point that he almost had a nervous breakdown — and since coming out to his teammates, Denson is feeling and playing much better: the power hitter was selected for the Pioneer League All-Star Game, held earlier this month, and was named the game's most valuable player after hitting a key home run.