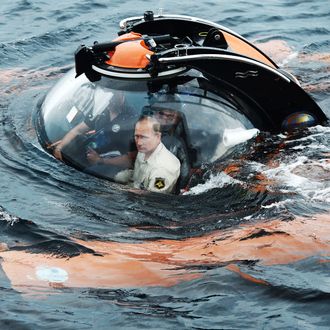 You dream about going up there. But that is a big mistake.
Photo: Alexei Nikolsky/Russian Presidential Press and Information Office/ITAR-TASS/Corbis
Russian president Vladimir Putin descended to the bottom of the Black Sea in a tiny submarine on Tuesday to visit a shipwreck — all while dressed in head-to-toe beige. The reportedly long-submerged Byzantine trading ship was off the coast of Crimea, the peninsula Russia annexed from Ukraine last year. 
While underwater, Putin talked to Prime Minister Dmitry Medvedev on a radio. "It's great," he said of the ship. He ended the short dispatch by saying "Big hug!" — which happened to be the first thing Medvedev gave Putin when he returned to land, according to the AP.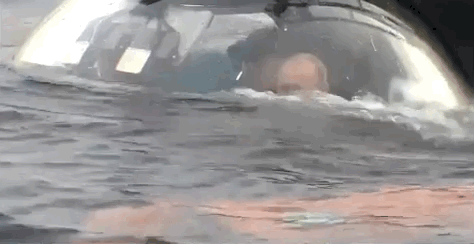 Putin has traveled by miniature submarine before to visit shipwrecks, and once found shards of ancient Greek jugs that his office later confessed had not been major discoveries, but instead had been a game of I Spy rigged for PR purposes.
Putin is on a three-day trip to Crimea promoting tourism; Ukrainian president Petro Poroshenko accused him of trying to stir up tensions in the fragile region. Poroshenko is scheduled to meet with European Union officials later this month to discuss the conflict in Ukraine, which began 18 months ago. 
After the underwater expedition, a reporter asked Putin whether it was wise to spend money on tiny submarine rides during a recession; the Russian president responded he was trying to help the Russian Geographical Society attract attention for its work studying the history of the region. Judging from footage from inside the submarine, Putin may have been helping the society with their research by taking notes of his find, or perhaps he is simply tired of politics and took advantage of the quiet moment to begin writing the next great Russian novel, which will perhaps star a shirtless hero who travels the world with a flock of birds.