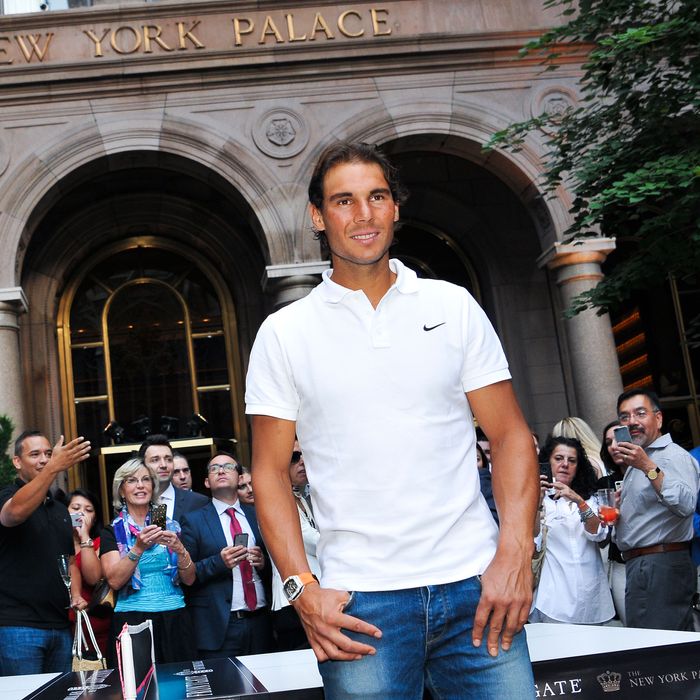 Rafael Nadal.
Photo: Jenny Anderson/WireImage
After more than a decade as a dominant force in the tennis world, Rafael Nadal has struggled mightily over the past year. His most recent not-so-Rafa performance was in Cincinnati a couple of weeks ago, when he lost unexpectedly at a U.S. Open warm-up tournament. With the big show kicking off this week in Flushing Meadows, plenty of fans are wondering if Nadal will be able to find his old game.
Daily Intelligencer caught up with him at a cocktail party at the New York Palace — where he was wearing considerably more clothing than the last time we saw him — to discuss whether his nagging injuries and confidence issues are in his rearview mirror, and whether he thinks he can turn his luck around at this year's U.S. Open.
One of the reasons fans love you is that you play every point like it's match point.
Well, I try my best all the time, that's my style during all of my career. And that's the way that I understand the sport, you know — try your best in every single moment. 
Sometimes your body works for you, as we saw at the Tommy Hilfiger event, but sometimes it works against you, because you're a really physical player and you run down every point, play the baseline, and use your body differently from other players. 
Well, in terms of physical issues, not because I am a physical player, I am getting less injuries or more injuries — there are a lot of physical players that don't get injured, and not very physical players that get injured — everybody has different characteristics. Somebody gets injured, somebody doesn't, you know that's part of [everyone's] careers. And when you are a professional athlete — in any sport — you bring your body to the limit. You play more physical and less physical, you take your body to the limit, and sometimes you get injured.
You've said that you're feeling confident about this week, and that as long as your body holds up, you'll be good. So how are you feeling?
I'm feeling good, I don't have physical issues at all now, so that's very important for my confidence, and for me to have the chance to practice as much as I want. And I'm doing it right. I'm practicing well, with the right attitude, playing better tennis than what I did most of this year, and I hope to arrive to the competition with good feelings.
Your fans are looking forward to this next week and believe that your level of play, the best of Rafa, isn't behind you. How do you feel about that?
You never know, the only thing that is sure and that I can say to my fans is that I'm trying my best, in all the moments, in every practice, I try to feel those great feelings again. And I think as I said before that I'm in the right way to get back to the level that I want to be, but it's a process, and it needs time, it needs confidence, and it needs matches. And that's what I'm looking for, and seriously I feel that I am in a much better position now than I was months ago. 
One of the things about tennis is that it's such a mental sport. And even though your skill level doesn't change, some days you play great, and some days you don't play as well as you'd like, you get to start over each time. So when you throw that first serve next week, it's all fair game. How are you able to tunnel it all out and do that?
The mentality is different in tennis, in golf, in every sport. Because in tennis, you play against an opponent, and the confidence you have in yourself is decisive on what's going to happen during the match, so it's important to feel that. If you are under-confident or you are in a lower confidence, it's just a question of feelings. All the sports have [their] own things, but in tennis it is a sport that is very mental because you play such a long season every year, a lot of matches. Every week is under pressure, every match you can win, you can lose, and the matches aren't easy at all — all the matches are close. And it's very demanding, physically and mentally.
You have your Rafael Nadal Tennis Academy opening next year, so what advice will you give to the young players who will look to you?
Well, yes, we are building a tennis academy with a school inside, with all the facilities that the young kids need to try to arrive at the top of [their] level; so, after a lot of years being in this world of tennis, knowing all the processes when you are a kid and when you are a professional, you get a lot of experience, you get a lot of knowledge about how things are going. It's a moment to try to give back something to that new generation. So, I believe that myself and my team have enough experience to help a lot, to try and help the kids to arrive to their top level.

This interview has been edited and condensed.