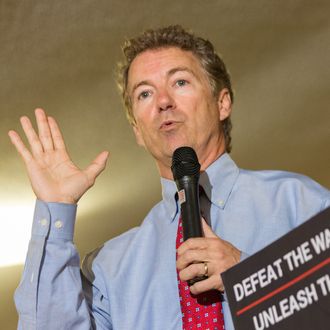 Rand Paul.
Photo: Richard Ellis/Getty Images/2015 Richard Ellis
A few weeks ago, Rand Paul refused to comment on Donald Trump's various shenanigans, but it became obvious last week that his strategy has changed. During Thursday's GOP debate, the Kentucky senator lashed out at Trump when he said he wouldn't rule out running as an independent, and again when he offered a nonsensical answer about his previous support for a single-payer health-care system. "News flash, the Republican Party's been fighting against a single-payer system for a decade. So I think you're on the wrong side of this if you're still arguing for a single-payer system," snapped Paul. "I don't think you heard me. You're having a hard time tonight," Trump answered.
With Trump dominating the headlines and Paul hovering below the top-tier candidates, attacking Trump makes sense for the senator. Unfortunately for Paul, he didn't make much of a splash with his comments during the debate, so on Sunday he reiterated his opposition to Trump on Fox News Sunday and in an Independent Journal Review opinion piece published Sunday night. "The Tea Party erupted over dissatisfaction with false conservatives," Paul writes. "It amazes me that anyone in the Tea Party movement could possibly consider Clinton/Reid/Pelosi supporter Donald Trump for President."
Paul goes on to lay out Trump's long history of taking contradictory political positions. "I honestly have no idea what Mr. Trump's real philosophy is," Paul says. "He was liberal before he was conservative, and has openly professed for decades that his views are those of a Democrat." He notes that we don't need "a bully" or "another president who thinks he is king," and marvels at why Trump has the support of so many GOP voters:
No conservative in America supports a single-payer government-run healthcare system, and yet around 25 percent of Republicans seem to favor Trump. How can this be possible? How can a quarter of the GOP support a guy who was a Republican, then an Independent, then a Democrat, and then a Republican again?

Are conservatives really willing to gamble about what Donald Trump really believes in?
Maybe? There are certainly some in the Republican Party who will appreciate Paul's tough anti-Trump stance, but if he's actually hoping to sway Trump supporters with his well-reasoned takedown, he should know that's not really their thing.