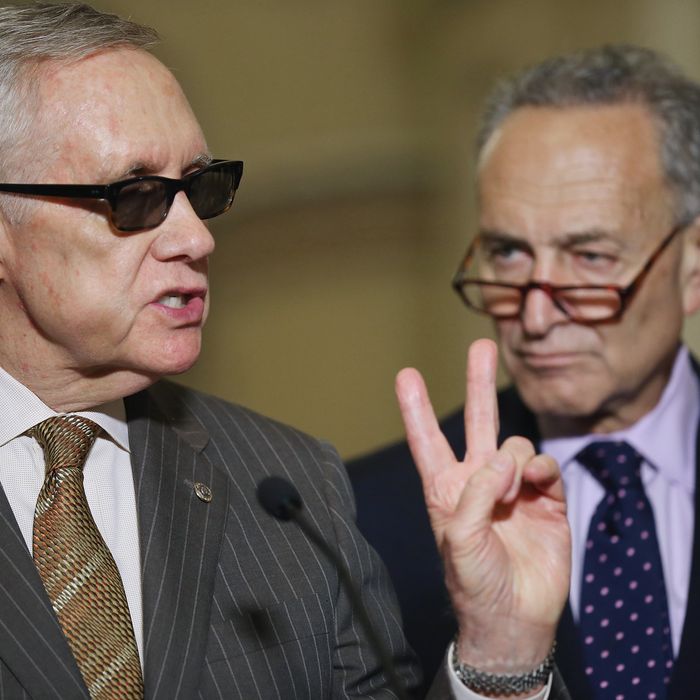 Harry Reid (L) talks to reporters with Chuck Schumer on June 23, 2015 in Washington, DC.
Photo: Chip Somodevilla/Getty Images
Even after Senator Chuck Schumer announced that he intends to vote against the Iran deal next month, most political analysts predicted that Congress wouldn't be able to block the agreement. That scenario seems even more likely now that Senate Minority Leader Harry Reid has thrown his full support behind the nuclear agreement. Calling the deal the "best path to stop Iran from obtaining a nuclear weapon," Reid said in a statement released Sunday night, "I strongly support the historic agreement and will do everything in my power to ensure that it stands."
Reid said critics of the deal have "failed to articulate a viable alternative," and it's a "fantasy" to think that a better agreement could be worked out if Congress rejects this one. "This is a good agreement on the merits, imposing the toughest inspections and verification regime in history, and a diplomatic solution is certainly less costly in American blood and treasure than any possible military option," Reid said. "If the Senate rejects this agreement, the international community will not support an attempt to secure another and they will not support the sanctions regime. Those are hard facts."
The House and Senate are scheduled to vote by September 17 on a resolution disapproving of the Iran deal. If Republicans reject the deal, as expected, Obama has said he will veto the measure. Then a two-thirds majority in both chambers will be needed to override the veto.
So far, Schumer and Robert Menendez are the only two Democratic senators who have said they won't support the Iran deal, and 17 Senate Democrats remain uncommitted. Reid said he's "cautiously optimistic" that he can rally enough Democrats to prevent an override, and he's "still hopeful" they can stage a filibuster and avoid sending the bill to Obama's desk in the first place.
The numbers back him up. Reid only needs to win over seven more Senate Democrats to sustain a veto. House Minority Leader Nancy Pelosi has said House Democrats already have the votes to uphold Obama's veto.
If Reid has any animosity toward Schumer over his break with the White House, he did not let on. He called his likely successor's decision a "vote of conscience" in an interview with the Washington Post, and said he doesn't think it will hurt his position within the Democratic caucus.