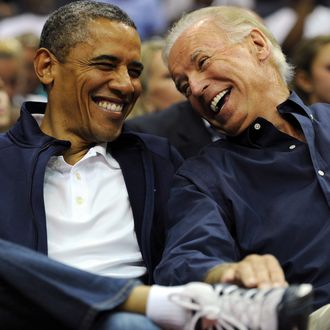 Obama and Biden.
Photo: Patrick Smith/Getty Images
According to various anonymous sources, Joe Biden is leaning more toward launching a 2016 bid than he was when the idea was floated earlier this summer, and if you believe an anonymous senior Democrat who spoke to CNN, President Obama just gave him his blessing. The vice-president is still undecided, but supposedly during their weekly lunch at the White House on Monday, Obama made it clear that he won't stand in his way or urge him not to run. Biden is said to be meeting with close Obama advisers Anita Dunn and Bob Bauer this week, and he'll huddle with top Obama campaign donors next month.
Obama has said Hillary Clinton would make an "excellent president," but when the issue came up during Monday's press briefing, White House press secretary Josh Earnest praised Biden as well. He noted that Obama has called making Biden his VP "the smartest decision that he has ever made in politics," adding, "there is no one in American politics today who has a better understanding of exactly what is required to mount a successful national presidential campaign" than Biden.
As for the Clinton campaign, they're taking these speculative developments in stride. When asked about the possibility that Biden will enter the race, John Podesta, chairman of Clinton's presidential campaign, said, "Am I nervous? No." He explained, "I've worked closely with the vice president since I started on Capitol Hill in 1979. We all like him. It's his decision to make about whether he's going to get in. But I'm convinced that we have a strong campaign — that she's the right candidate."