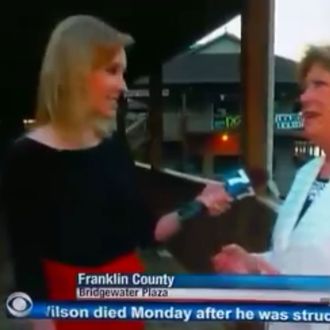 Twenty-four-year-old WDBJ7 reporter Alison Parker and 27-year-old cameraman Adam Ward were killed during a live-TV broadcast at Smith Mountain Lake in Virginia on Wednesday morning.
Vicki Gardner was also shot; she had surgery and is in stable condition. Her husband Tim Gardner told ABC News that the suspect had tried to shoot her several more times, but his gun malfunctioned. "He shot three times at my wife, and she was trying to dodge everything," Gardner, who was watching the news segment live, said. "He missed twice, and then she dove to the ground and curled up in a ball, and that's when he walked over and shot her in the back."
Gardner, the executive director of the local Chamber of Commerce, was being interviewed by Parker for a light segment on local tourism for News 7 Mornin'. "We're seeing tourism," Gardner told Parker, according to the Washington Post's recounting of the victims' final moments. "We want the people who come here to say that was … " The first shot was fired, hitting Parker — while as many as 40,000 watched live on TV. After Parker began to run away and many more shots were fired, the TV station cut the feed and the broadcast returned to anchor Kimberly McBroom in the studio, who was unable to hide her horror and shock.
On Friday, the Roanoke medical examiner said that Parker and Ward had both been shot in the head; they also had other gunshot wounds.
Police quickly began searching for the suspect, former WDBJ7 reporter Vester Lee Flanagan, known professionally as Bryce Williams. Flanagan was fired from WDBJ7 two years ago, after working there a year; before his identity was revealed, Governor Terry McAuliffe referred to the suspect as a "disgruntled employee."
The station's general manager, Jeffrey Marks, told the Today show on Thursday morning that WDBJ7 employees recognized Flanagan from an image that Ward, on the ground and already shot, was able to capture of the shooter towering over him with a gun. 
The Failed Escape
Forty-one-year-old Flanagan shot himself after a police officer approached him on I-66 in northern Virginia — about 200 miles away from where the shooting took place. Flanagan had been driving a Chevrolet Sonic he rented earlier this month after leaving his gray Ford Mustang at the Roanoke-Blacksburg Regional Airport.
A police officer turned on emergency lights when she spotted Flanagan with her car's license-plate reader device. The suspect didn't pull over and eventually crashed off the side of the road. He was found in the car with a gunshot wound. 
Flanagan was transported to a hospital, and pronounced dead around 1:30 p.m. "This gentleman was disturbed in some way," Sheriff Bill Overton said at a press conference on the incident on Wednesday. "The way things transpired, at some point in his life, it looks like some things were spiraling out of control.
Overton added that he had done an interview with Parker and Ward only three weeks ago. "It really stopped me in my tracks this morning, like many viewers I was watching this morning's broadcast and couldn't understand really what was happening."
On Thursday afternoon, Virginia Police released information about what they found in Flanagan's car: 17 stamped letters, a jumble of other letters and handwritten notes, a to-do list, a wig, sunglasses and a shawl, three extra license plates, and the Glock he used to shoot the victims and himself. It seemed like he was planning an escape.
A spokesperson from the Bureau of Alcohol, Tobacco, Firearms, and Explosives told the Roanoke Times that it seemed like the gun had been purchased legally. "He could be as mentally ill as the day is long," Tom Faison said, "but unless someone has been legally adjudicated as such, they can purchase a firearm."
The Suicide Note
ABC News reported that it received a fax from someone claiming to be named Bryce Williams shortly after the shooting; he called around 10 a.m. to follow up, noting his legal name was Vester Lee Flanagan and that he had just shot two people. While on the phone, he told ABC News that the police were after him and "all over the place." The outlet then sent the 23-page document to the authorities. Flanagan had also called ABC News a few weeks ago about a story tip. In the document, which ABC News called "rambling," Flanagan notes he has been attacked for being a gay black man and that "[w]hat sent [him] over the top was the [Charleston] church shooting."
"Why did I do it? I put down a deposit for a gun on 6/19/15," the fax begins, according to ABC News. "The Church shooting in Charleston happened on 6/17/15 … As for Dylann Roof? You (deleted)! You want a race war (deleted)? BRING IT THEN YOU WHITE … (deleted)!!!"
He adds that he was a "human powder keg for a while … just waiting to go BOOM!!!!" The alleged gunman praised the Virginia Tech and Columbine shooters, and said he had been spurred to action by Jehovah.
According to CNN, officers were able to track Flanagan through his cell phone, which he appeared to be using to post social-media messages about the murders. Graphic videos of the shooting were posted on Facebook and Twitter accounts registered under the name Bryce Williams — both accounts have since been suspended. "I filmed the shooting see Facebook," read one tweet. He also used his white iPhone, which was later recovered by police, to text a friend, according to the Associated Press. He said he had "done something stupid." 
For the handful of minutes that the videos were available, many social-media users accidentally ended up watching them thanks to Twitter and Facebook's auto-play feature. The Atlantic notes, "It's impossible to tell how many people saw the video (though Facebook's version of the video was shared 500 times before it was taken down), but user reports suggest that thousands and thousands of people witnessed — without being warned ahead of time or knowing what they were getting themselves into — a brief, vivid, and unmistakable snuff film."
After the shooting, WDBJ7 had to quickly pivot to covering the tragedy, and crying could be heard on TV from the studio. The incident happened around 6:45 a.m.; more than a dozen gunshots were heard before the camera dropped to the ground.
Before Wednesday morning, only six journalists had been killed in the U.S. since 1992.
"Firing Him Would Lead to Negative Consequences"
Marks described Flanagan as "an unhappy man," who "quickly gathered a reputation as someone who was difficult to work with," during a WDBJ7 segment on the shooting. Marks said Flanagan, who is black, "filed an action with the Equal Opportunity Employment Committee" about "racial comments" made by the staff; "none of them could be corroborated by anyone," he said. "We think they were fabricated." In the lawsuit, Flanagan — who was acting as his own lawyer — claimed that his co-workers would move a watermelon around the station to places that he would notice. "The watermelon would appear, then disappear, then appear and disappear again, only to appear yet again," he wrote. 
Flanagan also complained about comments made by Allison Parker, who was then an intern at WDBJ in 2012. According to Flanagan's personnel file, "Alison made a couple of statements that he thought were racist. One was something about 'swinging' by some place; the other one was out in the 'field.'"
He added in a letter to the judge, "I am hereby requesting a trial which will be heard by a jury of my peers. I would like my jury to be comprised of African-American women."
The lawsuit was dismissed. 
"Eventually," Marks added, according to the New York Times, "after many incidents of his anger coming to the fore, we dismissed him."
Trevor Fair, a former WDBJ cameraman who worked with Flanagan, told The Guardian about the last assignment he did with the reporter before he was fired. The pair was going to report on Virginia farmer John Lumsden, who shot his neighbor's dogs with birdshot after they bothered his cattle. No one answered the door at his house, so Flanagan walked right in. Fair says he told Flanagan, "You can't do that, dude." Flanagan allegedly responded, "You're fucking up this story, and I'm telling management how hard you are to work with."
"I thought he would come after me," Fair said. The Guardian also spoke to Lumsden; when asked about Flanagan walking into his living room, he replied, "Well. I did not know he had been in the house."

Marks said that Flanagan did not take his dismissal "well, and we had to call the police to escort him from the building." 
According to the Daily Beast, a former station manager — who had previously told Flanagan that he would be fired if he didn't seek medical help — noted at the time of the suspect's dismissal that Flanagan kept saying that "firing him would lead to negative consequences for me personally and for the station." As Flanagan allegedly flipped off employees, swore at them, and slammed doors, Adam Ward recorded him. Flanagan also allegedly handed his boss a wooden cross, saying, "You'll need this."
At some point after Flanagan was fired, he killed his two cats, according to the New York Times, and buried them in a grave in the forest, covering the plots with leaves. Newsweek notes that Flanagan wrote a Facebook post about a week before the shooting that said, "I miss my cats!!"
On Wednesday morning, the Tallahassee Democrat republished a story from 2000 about a racial discrimination lawsuit Flanagan filed against WTWC-TV in Florida. According to the report, Flanagan said that "he and another black employee were referred to as 'monkeys' and that a supervisor once told him that 'blacks are lazy and do not take advantage of free money' for scholarships and economic opportunities." 
Flanagan was fired shortly after; the station told the Democrat that his position would not be refilled and that they were reducing the size of the staff due to budget constraints. The lawsuit was settled out of court.
The Months Before the Shooting
After he left the station, he continued to have arguments with other locals in the area, according to the AP. The general manager at a Jack Brown's Beer & Burger Joint said she received a 15-page letter from Flanagan three or four months ago. He was upset that servers said "have a nice day" to customers instead of "thank you." A former co-worker at a UnitedHealthcare call center in Roanoke also reported on Flanagan to higher-ups after he allegedly grabbed her shoulder and said, "Don't you walk away from me." She told the AP that officials said she was overreacting.
After the shooting, a video was posted on YouTube of a road-rage incident Flanagan was involved in a few weeks ago. 
Two years after he was fired, Flanagan still lived in an apartment across the street from the station. According to NBC News, there was hardly any furniture inside. The fridge was covered in photos of Vester Flanagan, including modeling shots. The Telegraph said there was a puddle of cat urine in the apartment too when police went inside.
In Memoriam
On Wednesday, President Obama said "it breaks my heart every time" when he hears of another shooting. "What we know is that the number of people who die from gun-related incidents around this country dwarfs any deaths that happen through terrorism," he said.
Ward's fiancée, Melissa Ott, worked at the station as a morning producer, and was in the control room watching when the shooting happened. It was her last day working there; Parker had brought her balloons to celebrate on Wednesday morning before going out to report, according to ABC News. Ward was planning on following Ott when she moved to her new job in Charlotte — and was reportedly thinking of trying a career outside of journalism, according to The Guardian. He reportedly had job interviews scheduled on Wednesday afternoon. Ott posted on her Facebook page that she was putting those plans on hold for now, according to the AP. "Starting new adventures with my fiancé, new jobs, a new city," she wrote. "Getting married, having a family, buying a home. That's now taken. I'm not ok. And I won't be for a long time."
Parker's boyfriend worked at WDBJ7, too; he has been tweeting out memories of her.
Many viewers and locals visited the WDBJ7 offices on Wednesday to leave flowers and balloons at a makeshift memorial for the victims. Parker and Ward's colleagues on the WDBJ7 morning show held a moment of silence for them on air on Thursday morning. 
Andy Parker, Alison's father, told the Washington Post, "My grief is unbearable. Is this real? Am I going to wake up? I am crying my eyes out." He added that he refused to watch videos of the shooting. "It's like showing those beheadings. I am not going to watch it. I can't watch it. I can't watch any news. All it would do is rip out my heart further than it already it is."
In a heart-wrenching interview on Fox News, Parker's boyfriend, Chris Hurst, and father, Andy Parker, said the story is about an unwell person who was able to get a gun, not what Flanagan wrote in his manifesto. Hurst said that while he doesn't want to see the mentally ill stigmatized further, "Clearly something went wrong here between him leaving our station and being able to purchase a gun and commit a premeditated act."
"He was a crazy man that got a gun," Parker told Megyn Kelly, adding that he's dedicating his life to passing gun control. "I'm going to do something, whatever it takes, to get gun legislation — to shame people, to shame legislators into doing something about closing loopholes and background checks and making sure crazy people don't get guns," he said.
Vester Flanagan's family sent a statement on the tragedy to KRON4 in San Francisco; Flanagan grew up in East Oakland and graduated from San Francisco State University. "It is with heavy hearts and deep sadness that we express our deepest condolences to the families of Alison Parker and Adam Ward. We are also praying for the recovery of Vicki Gardner. Our thoughts and prayers at this time are with the victims' families and the WDBJ7 NEWS family. Words cannot express the hurt that we feel for the victims."
Parker graduated from James Madison University in December 2012; according to a bio of her on the website for WCTI in North Carolina, where she used to work, Parker loved to "whitewater kayak, see Broadway musicals, watch Jeopardy! and try new things." One anchor at the station called her a "rockstar" — "You throw anything at that girl and she could do it." 
Ward graduated from Virginia Tech in 2011. "He proved himself to be just a fine photojournalist," Marks said, according to The Guardian, "and the kind of guy who [when he] was on his way home from work and heard about something breaking, he would just turn around and go do it."
Both grew up in the area where they reported, and worked together frequently.
This post has been updated throughout.