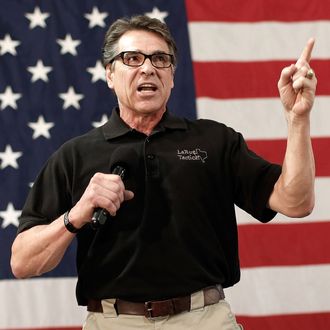 Rick Perry.
Photo: Win McNamee/Getty Images
Here's some information that will interest you if you're placing (extremely nerdy) bets on who will be the first candidate to drop out of the 2016 campaign: Rick Perry has stopped paying all of his campaign staffers. Earlier on Monday, National Journal reported that Perry was no longer paying his six-person staff in South Carolina, but according to the Washington Post, Perry campaign manager Jeff Miller told all staffers on Friday that they will no longer be paid and can start looking for other jobs. Sources say that so far most aides have stayed on as volunteers. "Pay is only one reason people do this," said Katon Dawson, Perry's South Carolina campaign chairman. "We'll be able to live off the land for a while."
The former Texas governor's campaign raised just $1.1 million in the second quarter, and Dawson said, "Money is extremely tight." However, super-PACs backing Perry had nearly $17 million at the end of June, and Austin Barbour, the group's senior adviser, told the Washington Post they will "put that money to use in Iowa to make sure the governor is in the top three there. The super-PAC is not going to let Rick Perry down." The Iowa super-PAC ran TV ads in recent weeks in an attempt to get Perry into last week's prime-time debate, but their effort was unsuccessful (though one could argue that says more about the whims of Fox News than the super-PAC's commitment to Perry).
Perry is still planning to campaign in South Carolina and Iowa in the coming days.
This post was updated to note that Perry has stopped paying all staffers, not just those in South Carolina.