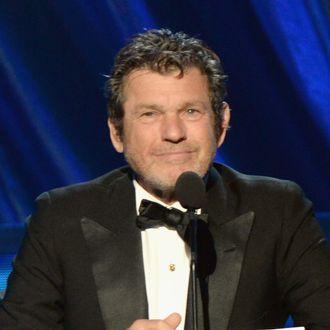 Jann Wenner speaks onstage at the 28th Annual Rock and Roll Hall of Fame Induction Ceremony on April 18, 2013 in Los Angeles.
Photo: Jeff Kravitz/FilmMagic
Here's another item for your list of Gwyneth Paltrow gripes: her ostensibly enlightened term for divorce is now being used to describe what happens when you and your employer part ways following an embarrassing scandal. Last week Rolling Stone announced that managing editor Will Dana would leave the magazine, four months after the magazine retracted the debunked article about a gang rape at the University of Virginia. The New York Times report made it clear that Dana had no other job lined up, and when asked if Dana was being let go over the article "A Rape on Campus," publisher Jann Wenner said, "[M]any factors go into a decision like this."
On Sunday night the Times reported that Rolling Stone has found Dana's successor: Men's Journal editor Jason Fine. Wenner also shed a bit more light on Dana's departure, saying the split was "a conscious uncoupling" and they're still on good terms. He said it was "very important for us to figure out a way to move on" following the UVA article, adding, "I think over all it was time for a change. I'm a big believer in change and the opportunities that arise from that."
Like Dana before him, Fine will also serve as editorial director of Men's Journal, Rolling Stone's sister publication. Mark Healy, Men's Journal's deputy editor, will replace Fine at that magazine. "It was all pretty surprising to me," Fine said of being tapped for the Rolling Stone position. "I was pretty shocked to learn that Will was leaving."
Wenner initially said no one involved in the UVA story's publication would be fired, and Fine said Sean Woods, who edited the piece, can remain at the magazine "as long as he wants." There was no mention of writer Sabrina Rubin Erdely, who remains on staff.