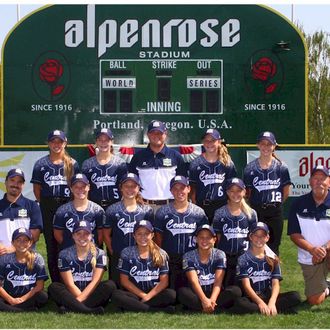 The Central Iowa softball team.
Photo: Courtesy of Little League Softball World Series
Gifted kid athletes learned an important lesson at the Little League Softball World Series in Portland, Oregon: Sometimes grown-ups have intensely stupid ideas and you should follow their example sparingly.
The U.S. West softball team from Washington, which was undefeated, lost 8-0 to the Southeast team from North Carolina on Monday night. The score left the two teams in a three-way tie with the Central Iowa team for the semifinals — and the Midwest team lost the tiebreaker.
The Central team complained to officials, citing a litany of odd behavior that preceded their elimination from the championship. The Washington team decided to bench four of its best players in the game that became its first loss — an epic one, too — of the tournament. In case that didn't look suspicious enough, the team made it easy for everyone watching to see what they were up to when every player bunted or struck out after trying to hit pitches that had basically become grounders before hitting the plate. 
Yes, a team seems to have thought it could get away with throwing a game at the Little League Softball World Series. 
Not only was this a violation of Little League rules — teams are supposed to "strive to win" — the coaches from Washington trying to avoid a rematch with Iowa made the players watching from the bleachers cry. "It took about a half-inning for the girls to catch on," Central Iowa coach Charlie Husak told WHO-TV. "We were trying to keep it from them, but you could see when they caught on that the tears started to pile up. It was pretty emotional."
"It's not the girls' fault," Chris Chadd, president of Central Iowa Little League, told the Des Moines Register. "It's the coaches … they should be disqualified."
Now, the team from Washington is going to do exactly what they apparently hoped to avoid — play Central Iowa again. Officials are making the teams face off in a playoff on Tuesday morning — the winner will face North Carolina in the semifinals. Unfortunately, the Little League board did not sentence the coaches — who join "parents kicked out of the stands for screaming during the game" in the student-sports Hall of Shame — to an hour in time-out so they can think about their bad choices.