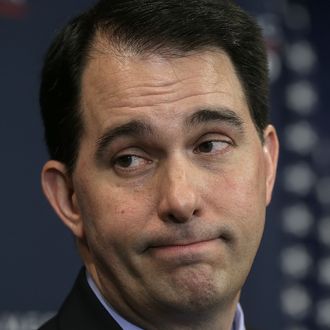 Photo: Win McNamee/Getty Images
Wisconsin governor Scott Walker, who said last week that Donald Trump does not intimidate him and discussed Trump supporters at length with The Wall Street Journal yesterday, released a statement on two of the businessman's favorite subjects on Monday: the markets and China. 
"Americans are struggling to cope with the fall in today's markets driven in part by China's slowing economy and the fact that they actively manipulate their economy," Walker's statement begins. "Rather than honoring Chinese President Xi Jinping with an official state visit next month, President Obama should focus on holding China accountable over its increasing attempts to undermine U.S. interests."
>
Given China's massive cyberattacks against America, its militarization of the South China Sea, continued state interference with its economy, and persistent persecution of Christians and human rights activists, President Obama needs to cancel the state visit. There's serious work to be done rather than pomp and circumstance. We need to see some backbone from President Obama on U.S.–China relations.
Walker does not provide any ideas on how the serious work of discussing policy with China will happen if President Obama makes the pomp-and-circumstance play of canceling a visit for symbolic reasons instead of discussing economic issues and human rights with President Xi Jinping in person. A group of lawmakers has asked Obama to bring up human rights at the meeting, according to the Washington Post. An administration official told the Post of the requests concerning human rights, hacking, and trade, "We won't pull any punches on those issues. We will have very candid discussions." 
Canceling a state visit in September would also probably make China not too excited about talking about climate change in Paris in December — something Walker may not be too worried about, but the Obama administration is definitely thinking about carefully.
Walker, who has not had the best week, also told Time magazine that his stance on this issue had nothing to do with Trump, who has managed to stay on top of the polls despite also not having the greatest week several weeks in a row. In 2013, Walker led a Wisconsin trade mission to China — and attended the opening of a Harley Davidson dealership there. A Madison-based business consultant told the Journal Sentinel, he was optimistic that Walker's China trip would be more than "pomp and circumstance."