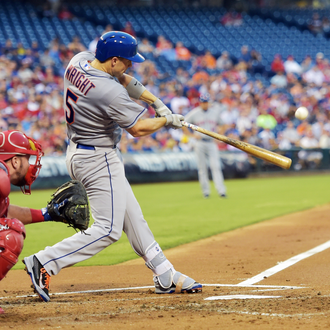 Prior to this year's trade deadline, Mets fans had been begging general manager Sandy Alderson to improve the team's woeful offense, and he did, making his biggest splash by acquiring outfielder Yoenis Céspedes. But as July turned to August, the Mets still hoped to add one more key reinforcement: third baseman and captain David Wright, who'd been out since April because of spinal stenosis, or a narrowing of the spinal column. Last night, Wright finally returned to the lineup, and that once-terrible offense put on a show, blasting a franchise-record eight home runs in a 16-7 win over the Phillies in Philadelphia, including one from Wright in his first at-bat since April 14.
Wilmer Flores hit two of the Mets' eight homers, with Wright, Juan Lagares, Travis d'Arnaud, Michael Cuddyer, Daniel Murphy, and Yoenis Céspedes all going deep once each. Here's all eight of the homers:
The Mets now have a five-and-a-half-game lead over the fading Washington Nationals, and though it's an admittedly small sample size that includes three games in the thin air of Denver's Coors Field, the Mets have exploded for 49 runs over their last four games. And as September nears, they're trending in the right direction: On the day of the trade deadline, they were dead last in the majors in runs scored as a team. Today, less than a month later, they're a more respectable 20th out of 30.