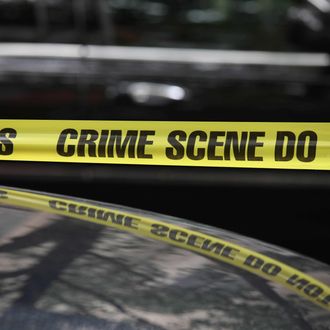 Photo: Rob Kim/Getty Images
New York's efforts to halt an uptick in gun violence appear to have worked, at least for now. Back in early June, the NYPD noted that homicides involving a firearm were up 30 percent from the same time in 2013 and 2014. Nonfatal shootings were also on the rise. In response to the statistics, Mayor de Blasio announced that the NYPD's "All Out" program — in which police officers flood troubled areas for the traditionally high-crime summer months — would begin early. On Monday, the New York Times reported that shootings had since "flattened out," though the total number of homicides is still 10 percent higher than last year.
From the Times:
Through Sunday, there have been 669 shooting incidents citywide in 2015 versus 674 at this time last year, according to Police Department statistics. Those shootings resulted in 794 people struck by bullets — including nine hit, none fatally, in the Sunday shooting in East New York — virtually the same number at this point last year, when 787 had been struck.
While those numbers are encouraging, the paper also points out that weekly crime statistics don't always reflect larger trends. And there was still plenty of gunfire this weekend, resulting in the aforementioned nine injuries at a house party in East New York; the wounding of seven people in East Flatbush, Flatlands, and Prospect Lefferts Gardens; and a murder in Canarsie.